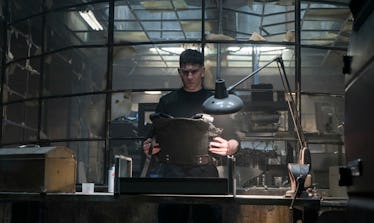 'The Punisher' Season 2 Cast Is Growing & You May Recognize These New Additions
Netflix
Last year, Netflix took a risk with their successful Marvel franchise and created the first official spinoff series of the original four Defenders characters by giving The Punisher his own show. It was risky from a lot of angles, including having a very pro-second amendment message, a very high level of gun violence, and embodying the idea that a "good guy with a gun" is exactly what the country needs right now. But the risk paid off, and the series landed a second season. Now, Netflix is releasing The Punisher's Season 2 cast additions, and among them are a few familiar faces.
Like the first seasons of Daredevil, Jessica Jones, Luke Cage, and Iron Fist, The Punisher needed a crossover character to help tie it back to the original series. Since it was a direct spinoff of Daredevil, it made the most sense to cross over one of those characters, Karen Page, played by Deborah Ann Woll.
But it looks like this season, Karen won't be back to do any plucky reporting on Frank Castle and his feats of vigilante heroism. Instead, the returning characters listed so far are Ben Barnes as Billy Russo, Amber Rose Revah as Dinah Madani, and Jason R. Moore as Curtis Hoyle.
Joining them are two new additions, which fans will recognize from other high profile series. According to Entertainment Weekly:
Annette O'Toole, best known for starring as Martha Kent in the long-running superhero series Smallville, has joined the Marvel series for its second season, along with Corbin Bernsen (American Gods), to play a wealthy couple who are as manipulative as they are rich.
The Punisher's Executive Producer Jeph Loeb was very pleased in the press release:
We are delighted to have Annette and Corbin join the remarkable talent this season. Our audience will enjoy them in very unexpected but perfectly cast roles.
Sounds like people Frank Castle will want to take down a peg. Netflix isn't leaving fans to wonder which characters from the comic books they might be, though.
Bernsen will play Anderson Schultz, described as a man invested in his power and legacy 'who's grown accustomed to getting his way,' and who will 'implement less-than-legal means to further those ends.' O'Toole will play his wife, Eliza Schultz, who's just as conniving.
Unfortunately, if these characters are based on anyone from the Marvel comics, it's not immediately clear. But Netflix and Marvel both have a track record of changing names to disguise who characters are really counterparts of on the page.
Either way, the descriptions of our new antagonists fit perfectly into the synopsis of the new season Netflix put out:
After exacting revenge on those responsible for the death of his wife and children, Frank Castle (Jon Bernthal) uncovers a conspiracy that runs far deeper than New York's criminal underworld. Now known throughout the city as The Punisher, he must discover the truth about injustices that affect more than his family alone.
O'Toole and Bernsen join an already expanded cast from the first season. Other newcomers for Season 2 include Josh Stewart as John Pilgrim, Floriana Lima as Krista Dumont, and Giorgia Whigham as Amy Bendix.
Stewart will play John Pilgrim, a man whose calm exterior belies a ruthless interior. Despite having left behind a life of violence, circumstances will force him to use his old skills and bring him into Frank Castle's world. Lima will portray Krista Dumont, a smart, compassionate and driven psychotherapist for military veterans. Whigham will play Amy Bendix, a street-smart grifter with a mysterious past.
The Punisher Season 2 does not yet have a Netflix release date yet but is expected to debut at some point in mid-2019.