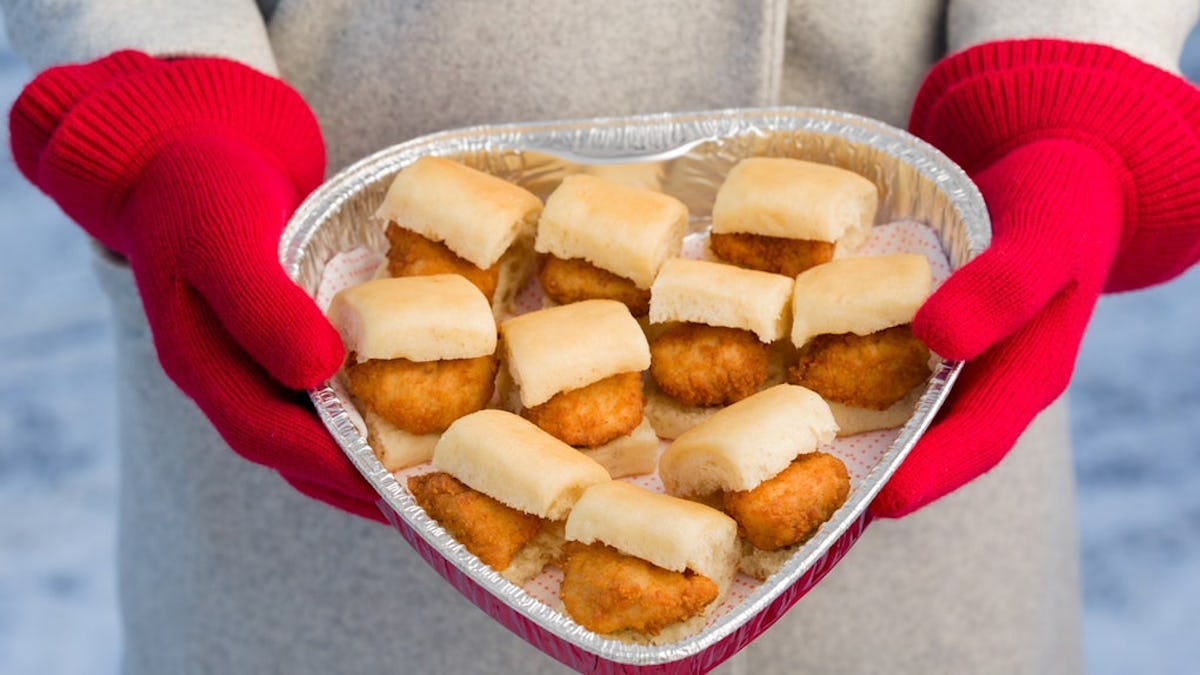 Chick-Fil-A's Heart-Shaped Trays Are Back, & There's A New Brownie Option
Make your Valentine's Day extra special with Chick-fil-A's heart-shaped trays full of nuggets. Seriously, Chick-fil-A can do all of the work, so you don't have to cook to share a foodie gift with the people you love. If you're wondering how much Chick-fil-a Valentine's Day trays cost, you'll be glad to know the price of Chick-fil-A's heart-shaped nugget trays is more affordable than you'd think.
The heart-shaped nugget trays became available once again for Valentine's Day 2021 on Monday, Jan. 25, ahead of the coming holiday. The trays can hold one of four tasty menu items, and they'll be sold through Saturday, Feb. 13, so make sure you snag one before the holiday. Since these nugget trays are only available while supplies last, though, I'd suggest ordering one sooner rather than later in case they run out.
IMHO, the star of the show is definitely the 30-count Chick-fil-A Nuggets tray, but similar to last year, you can also order a 10-count of Chick-n-Minis (during breakfast hours) or a 6-count tray of Chocolate Chunk Cookies in the same love-themed packaging. New for 2021 is the 12-count of Chocolate Fudge Brownie Halves. Chick-fil-A's special heart-shaped trays don't come at any extra cost for the themed packaging, so you can expect the following starting prices: $13.19 for a 30-count of nuggets, $8.69 for a 10 count of Chick-n-Minis, $7.39 for a 6-count of cookies, and $11.50 for a 12-count of brownies.
The heart-shaped nugget trays are available in participating stores and for delivery in some areas. You can check availability in your area using the Chick-fil-A app. If you don't have the Chick-fil-A app, you can download it for iOS or Android for free and create your account. No matter how you get it, you may want to order ASAP, since it's a limited-time deal.
When you order your festive bites, remember to follow the guidance from the Centers for Disease Control and Prevention (CDC) about running errands as of Dec. 31. The recommendations include staying home when you're sick, wearing a face mask if you must go out, and choosing delivery and pay ahead methods when possible. You'll also want to follow Chick-fil-A's coronavirus guidelines if you head to a location.
If you think you're showing symptoms of coronavirus, which include fever, shortness of breath, and cough, call your doctor before going to get tested. If you're anxious about the virus's spread in your community, visit the CDC for up-to-date information and resources, or seek out mental health support. You can find all Elite Daily's coverage of coronavirus here.
This article was originally published on