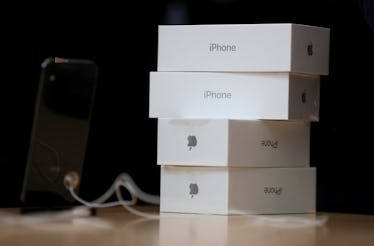 New iPhones In 2018 Might Come In These Vibrant Colors, So Forget About A Case
Justin Sullivan/Getty Images News/Getty Images
I'm going to go full-on millennial for two seconds, and admit that there are very few things I miss about life before smart phones. Accidentally logging onto the internet was pretty much a death sentence, and typing out one text took approximately two and a half hours. I do, however, miss the vast color selection of flip phones. You could pretty much snag a phone in any color of the spectrum, and mine was obviously purple (to match my skinny jeans, duh). If you feel the same way, make sure to check out the predicted iPhone colors of 2018, because they're literally a blast from the past. I won't need shades to match my skinny jeans anymore, but they're definitely perfect for adding a splash of color to my #aesthetic.
On Thursday, July 5, Apple market analyst, Ming-Chi Kuo, released some pretty exciting news within the realm of technology. According to 9 to 5 Mac, Kuo unveiled a report detailing the new 2018 iPhones — and seriously, prepare to be amazed. One of the new iPhones is reportedly going to be 6.5-inch OLED model, while the other is reportedly a 6.1-inch LCD model. The 6.5-inch iPhone is predicted to cost approximately $1,000 (which sounds relatively similar to the iPhone X), while the 6.1-inch should go for about $700. What's really getting people hyped, however, are the new color choices. While the 6.5-inch is most likely going to come in black, white, and a "new" gold color, the 6.1-inch might be offered in an array of bright new hues. So if that doesn't get you hyped, I seriously don't know what will. After seeing what they might look like, you won't even want to get an iPhone case.
Per 9 to 5 Mac, the 2018 6.1-inch iPhones are predicted to be offered in grey, white, blue, red, and orange. These are simply predictions (so don't get too excited), but Kuo reportedly said the likelihood of their release is very possible. Per 9 to 5 Mac, it's also likely the analyst meant Space Grey and Silver when he referred to the "grey" and "white" options for the 6.5-inch phone. Regardless, I'll have my eyes set on the orange option for smaller phone.
It looks like foliage won't be the only colors you'll be seeing this autumn, because these colorful new iPhones are expected to launch this fall, according to 9 to 5 Mac. With these sick new colors, as well as competitive pricing, Kuo expects that iPhone sales are going to skyrocket (and um, that's probably true, because I'm totally buying one). The bottom line is that the new iPhones look like a dream come true, and I am so ready for them to color my world.
OK, but real talk, fall could not come sooner at this point... and I'm not only saying that because of all of the new iPhone colors. With the release of Unicode 11.0, 157 new emojis that are expected to launch sometime between September and December 2018. Along with the gorgeous new iPhones, I'll also be able to include parrots, lobsters, llamas, red heads, bagels, and frisbees in any and all of my text messages... and that's pretty much all I could want in life, to be quite honest.
Don't get me wrong, guys — I'm always incredibly stoked about the release of a new iPhone model. But now that the new iPhone is potentially going to be released in a few new colors, I'm basically beside myself. I'm about to live out my 2007 dream of matching my phone to all of my outfits, and I'm going to look colorful AF. Just be prepared for orange outfits on the regular, though, because the orange iPhone is about to be mine... all mine.