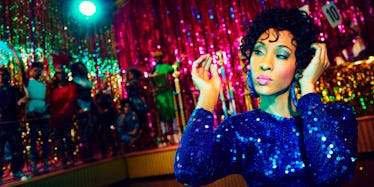 The 'Pose' Soundtrack Is the Perfect Playlist When You're In The Mood To Feel Fabulous
FX
Ryan Murphy first put himself on the TV map with Glee, a network musical series. Since Glee was canceled, Murphy has been focused more on anthology series like American Horror Story, American Crime Story, and Feud. But with Pose, Murphy returns to the type of show that made him famous. Pose is billed as "a dance musical that explores the juxtaposition of several segments of life and society in New York." Befitting such a claim the Pose soundtrack for the premiere episode is an aural delight, with enough tracks to fill a double vinyl album. Warning: Spoilers for Pose's Season 1 premiere follow.
Unlike Glee, which featured singers, Pose is all about different segments of society who dance, plus a character who refers to music as "his hobby." That means at every turn, temporary dance and pop music of the era is blasting from radios on street corners or playing in the background, or booming at high decibels from the club speakers as the ballroom dancers parade for the judges.
For those who are fans of disco from 1974 onward through the present day of 1987, this show is a feast for the ears, For those who are just getting into the musical era, the music is an education.
Let's run down all 18 tracks that can be found in the premiere episode.