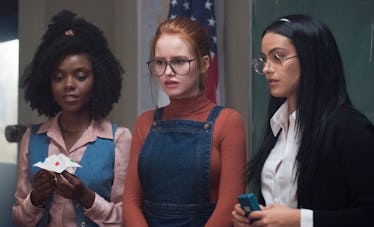 The 'Riverdale' Stars Got Full Makeovers To Play Their Parents In The Flashback Episode
CW
It is time to see the stars of Riverdale like fans have never seen them before. The young cast of the teen drama got total character makeovers in order to play their own parents in a '90s-set flashback episode that is about to premiere, and now we finally have our first look at the wild transformations. These photos of the Riverdale kids playing their parents will cause fans to look at the characters in an entirely new light, and they may also reveal some shocking twists to come.
The new photos from the flashback episode give us our first look into the pasts of Riverdale's mysterious parents. In this week's episode of the show, we saw Hermione Lodge call all of the parents together to discuss a secret that they have all kept for years, which has to do with the lethal board game that resurfaced in Riverdale and already claimed two lives. Episode 4 of this season, which is called "The Midnight Club," will flash back to when Hermione, Fred Andrews, Alice Cooper, F.P. Jones, and the rest of the parents first discovered the mysterious game of Griffons and Gargoyles while they were in high school. One of the first-look photos shows teenaged Fred, F.P., Alice, Hermione, Penelope Blossom, and Sierra McCoy staring at a box, which is presumable the Griffons and Gargoyles game.
And it appears that the dark secret all of the parents are hiding does involve someone dying because of this game, because another photo shows Hermione, Alice, and Fred looking mournful in all-black, seemingly before or after a funeral.
But the most shocking element of these new photos are the romantic implications that fans had no idea about. We already knew that F.P. and Alice had a fling in high school, and likewise with Fred and Hermione, but two of the new photos seem to suggest that there were actually some sparks between F.P. Jones and Hermione Lodge... and between Fred Andrews and Alice Cooper as well!
We will also be seeing a familiar face that fans have not seen for a long time in the new episode. Trevor Stines, the actor who portrayed Jason Blossom in the first season of Riverdale, is returning for the episode to play the teenaged version of Clifford Blossom.
And TV Insider also shared a first-look photo of Michael Consuelos (Mark Consuelos' real-life son) as teenaged Hiram Lodge in the episode, alongside Charles Melton as a teenaged version of Reggie Mantle's father.
As its name suggests, "The Midnight Club" will pay homage to The Breakfast Club, showing the teen versions of the Riverdale parents bonding with one another after getting detention. The episode has even cast Breakfast Club star Anthony Michael Hall to play Riverdale High's principal as another nod to the '80s classic.
Check out some more photos from the upcoming episode below:
Riverdale Season 3 Episode 4 "The Midnight Club" will air on Wednesday, Nov. 7 at 8 p.m. ET on the CW.