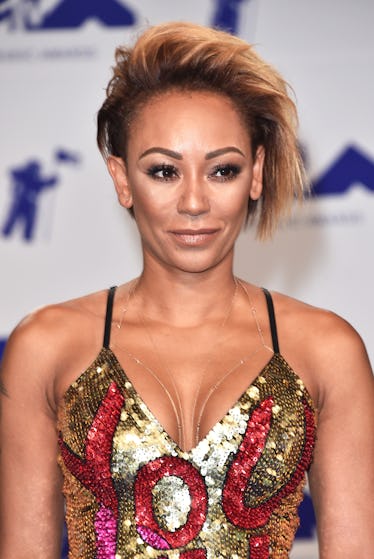 Mel B Threw So Much Shade At Victoria Beckham With Her Spice Girls Halloween Costume
Alberto E. Rodriguez/Getty Images Entertainment/Getty Images
For many celebrities, Halloween is usually a time to show the world their true selves. And for Mel B aka Scary Spice from the Spice Girls, it's a holiday to take some lighthearted jabs at her former bandmate. The former Spice Girl attended Heidi Klum's annual Halloween bash all dressed up as Victoria Beckham aka Posh Spice. And the photos of Mel B's Victoria Beckham Halloween costume will definitely put a smile on your face!
Mel donned a classic little black dress very similar to the ones Beckham was so famous for during her Spice Girls days. She also had a mask of Victoria's face, which added a bit of extra comedy to the whole costume. On top of that, she carried ax-shaped sign that said, "No I am not going on tour."
Mel B's friend, Gary Madatyan, accompanied her to the party and he dressed up as David Beckham. His costume included a Beckham soccer jersey, sunglasses, and a blonde wig. Very funny stuff! Madatyan also carried a sign seemingly aimed at Posh Spice. "Please Please Please Do It For the Spice Fans B**ch," the sign read.
You can check out the photos of Mel B's Victoria Beckham costume down below:
Mel captioned the photos with, "Yesssss @heidiklum yippppeee first year coming to her party wow wow wow what an amazing Halloween party right now,seriously it's on fire haha me and @gary_90210 never laughed soooo much #livingmybestlife #ny #bellylaughs @lavony was lit"
The signs are apparently referencing reports from February 2018 that revealed Beckham wasn't interested in going on tour with the Spice Girls. According to People, Beckham told British Vogue that she would be skipping out on any possible Spice Girls' touring plans.
"I'm not going on tour. The girls aren't going on tour," she told the publication. "It was so great to see the girls. We had such a fun lunch. It was really, really, really lovely. I still speak to them all individually, but for us all to get together was really lovely."
Earlier in the year, on Feb. 2, People reported that the Spice Girls had met for lunch and agreed to come together for a possible reunion.
"We have enjoyed a wonderful afternoon catching-up and reminiscing about the amazing times we have spent together," the group said in a statement. "We are always overwhelmed at how much interest there is across the whole world for The Spice Girls. The time now feels right to explore some incredible new opportunities together. We all agree that there are many exciting possibilities that will once again embrace the original essence of The Spice Girls, while reinforcing our message of female empowerment for future generations."
While that joining of Spice Girls forces hasn't happened just yet, it seems like Mel B is a bit irritated that Beckham is reluctant to reunite the group. And she definitely made that clear in her Halloween costume this year! I wonder how Beckham feels about her former bandmate dressing up as her? I'm sure she had a good laugh at it.