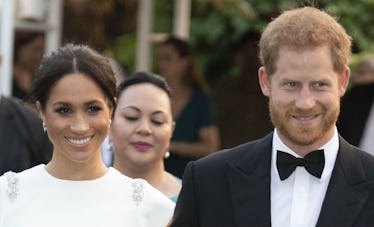 Meghan & Harry's Outfits In Tonga Make Them Look Like They're Getting Married Again
Pool/Getty Images Entertainment/Getty Images
Wait a second. Is it the best day of my life (aka, Prince Harry and Meghan Markle's wedding day) all over again? The Duke and Duchess of Sussex are continuing their first tour together in Tonga and just stepped out in some very romantic-looking outfits. The photos of Meghan and Harry in Tonga look eerily similar to wedding attire, thanks to Meghan's gorgeous white gown and Prince Harry's black suit and bowtie. Meghan's dress is just one of the many gorgeous looks she's rocked so far on her travels, but this definitely might be my favorite.
Meghan and Harry wore the wedding-like attire to the Consular House in Nuku'alofa, Tonga, for a private audience with King Tupou VI and Queen Nanasipau'u, according to E!. Meghan's dress was a column white gown with detailed cap sleeves which she paired with a low bun. According to E!, the dress was created by couture and bridal designer, Theia.
"When her stylist reached out to inquire if I could make a dress for her Australian press tour, I stopped everything we were doing — my bridal show was just a week away — and immediately went to work on Her Royal Highness' gown," Theia's creative director, Don O'Neill, explained in a press release. Reportedly, it only took the designer two days to create it and Meghan "loved" it.
I mean, obviously. Look how incredibly stunning she looks in it!
Check out the delicate detailing on her shoulders.
Even though the dress was perfect, O'Neill revealed they bumped into one minor alteration. "We needed to remake it with extra seam allowance." This, of course, is thanks to Meghan's growing baby bump.
When O'Neill learned about the extra seam, Meghan had not yet revealed her pregnancy. "We knew immediately why this extra allowance was required, but mum's the word, and with less than one week to my bridal show, all hands were on deck once more," he said. "We re-made the gown and I literally had to run down Broadway that Friday night to catch the UPS truck, making it with just minutes to spare!"
According to O'Neill, Meghan has "long been a source of inspiration" to him. He explained, "Her classic, effortless and chic style — coupled with all the excitement leading up to her wedding earlier this year — inspired my Spring 2019 bridal collection."
O'Neill added:
I am humbled and so excited to dress The Duchess of Sussex. It has been an exciting whirlwind collaboration. Her Royal Highness is a truly beautiful inspiring woman, a bright shining light in this world, and we at Theia are truly honored to be part of The Royal Tour of Australia, Fiji, the Kingdom of Tonga and New Zealand.
I mean, I don't disagree about the bright shining light part.
Meghan and Harry have tackled their first tour with total grace. The press has been extremely diligent in covering their every move, and so far, the trip has gone off without a hitch.
I'm grateful for a chance to relive their wedding day and can't wait to see what ensemble Meghan sports next!