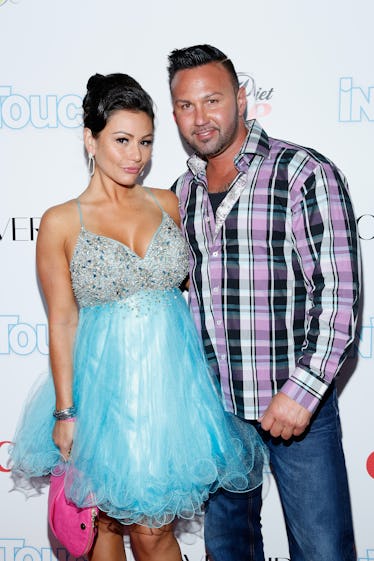 This Update On JWoww & Roger's Relationship Post-Split Will Make You So Hopeful
Cindy Ord/Getty Images Entertainment/Getty Images
Jenni "JWoww" Farley and Roger Mathews may be headed for divorce, but that doesn't mean they're looking to miss out on family time. And the photos of JWoww and Roger Mathews at a Disney event prove that they still have a lot love for their family. The pair reunited on Sunday, Sept. 30 for the Disney Junior Dance Party On Tour at the OceanFirst Bank Center in West Long Branch, New Jersey. And they did it all for their young daughter Meilani, who is just 4 years old.
JWoww, Mathews, little Meilani, and another child seemed to have a fun outing on Sunday. The whole gang posed for photos and looked as happy as ever. In the photos, which were posted to JWoww's Instagram, you can see everyone posing with Mickey Mouse, Minnie Mouse, and so many other awesome characters. On top of that, there are also photos of the happy family in the audience. So, they obviously enjoyed the show and spending quality time together.
More than anything, though, JWoww and Mathews really proved that getting a divorce doesn't necessarily mean that family fun ceases to exist. Just from this Disney outing, it seems like co-parenting is going to be extremely important to JWoww and Mathews. So, that's a really nice thing to see.
The photos of their weekend trip are super cute. Here's a look at them:
So adorable!
As you may have heard, JWoww filed for divorce on or around Sept. 12, at least according to TMZ. Elite Daily reached out to JWoww's team for comment but did not hear back by the time of publication. JWoww's paperwork reportedly cited "irreconcilable differences" as the main reason for the split. News of the divorce was first reported by Ashbury Park Press and according to their report, JWoww's petition states that the marriage has been rocky for about six months.
"The Plaintiff and the Defendant have irreconcilable differences which have caused the breakdown of the marriage for a period of at least six months which make it appear that the marriage should be dissolved and that there is no prospect of reconciliation," the complaint reportedly said.
Soon after the divorce news hit the media, Mathews took to his Instagram account to explain that he wasn't ready to quit on his marriage.
"My wife filed for divorce, it's true. I'm just going to keep it simple," Mathews said in an Instagram video. "I don't blame her. There's no cheating or any dumb s**t, any juicy details. She just grew tired of the repetitive pattern that we fell into. I'm not gonna get into details, but it was a repetitive pattern and not a good one."
Here's the clips from Instagram:
"Here's what's also true, I'm not done fighting," Mathews continued. "I'm going to win my wife back. I'm going to win her affection back. I'm going to win her love back. I have no intention of being a single dad. We're in counseling, so there is hope."
JWoww and Mathews tied the knot back in October 2015. They have two children: 4-year-old Meilani and 2-year-old Greyson. Although Rogers seems committed to fighting for his marriage, there's been no word yet on whether a full reconciliation is in the works.