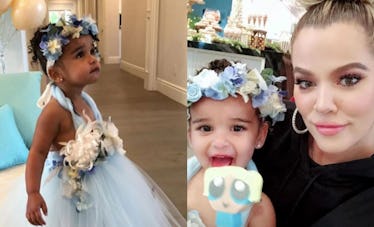 The Kardashians Threw Dream The Cutest Fairy-Themed Birthday Party Of Your Childhood Dreams
Instagram
Dream Kardashian just turned two and the whole Kardashian-Jenner family celebrated her birthday with an incredible fairy themed party! The party, which happened on Wednesday, Nov. 14, included everything your inner child would ever dream of: flower crowns, fairy wings, a giant fairy-themed teepee, butterfly decorations, and even some real-life fairies. The photos from Dream Kardashian's fairy birthday party will definitely make you wish you'd been there.
The party was documented on Instagram by most of Dream's aunts on the Kardashian side of the family. Kourtney Kardashian, Kim Kardashian, Khloé Kardashian, and Kylie Jenner all posted pics from the fairy-themed party and made sure that little Dream knew how much they love her.
The Kardashian-Jenner sisters were single-handedly responsible for sharing all the fun on social media. They each took to their Instagram accounts to share bits and pieces of the day. Much of what they shared appeared on their Instagram stories, so there were photos and videos of everything that made Dream's big day even more special.
"Happy birthday Dreamy girl," Kourtney Kardashian shared on her Instagram Story at one point.
The rest of her sisters spent the day sharing various scenes from the party. For example, Khloé shared a view of the giant teepee as well as a sweet pic of her and Dream together:
Meanwhile, Kim was snapping pics of the fairy wings, butterfly decorations, and actual fairies that made the whole thing so special:
Kim also marked Dream's birthday with a special tweet on Dream's actual birthday which was Nov. 10:
Kim wasn't the only member of her family to share a few sweet words about Dream for her birthday. Proud mom and grandma Kris Jenner also did the same.
"Happy birthday to our sweet angel Dream! It brings me so much joy to watch you grow into the most beautiful, sweet, kind-hearted and loving little girl," Jenner wrote. "We love you so much!! #HappyBirthdayDream #DreamyDream 🎀💕"'
In another post for the birthday girl, Jenner shared shared her love for Dream with her followers. She captioned a series of photos of Dream with, "Happy 2nd Birthday to my beautiful granddaughter Dream!!!! You have brought such joy into our lives and I love you so dearly... what a special blessing you are my precious girl.. I LOVE YOU 🎀🎀🎀💞💕💝💖💗💓💘May you always have bubbles!! 💙💙💙 #happybirthdaydream #dreamgirl #dreamy"
And Dream's mom, Blac Chyna, also posted something on Instagram to celebrate Dream's birthday.
"To my Dreamy, Today is your 2nd Birthday and one day when you are older you will read this and know how much I love and cherish you," Blac Chyna wrote in the caption of the post. "I wish you the most fulfilling experiences on your journey, blessings that overflows on your hands and the courage to pursue your 'Dreams'. As your mother I hope happiness and peace will follow you every step of the way. Happy Birthday to my beautiful and smart babygirl!!!!! Love Mommy❤️"
Needless to say, there's a lot of love in the family for little Dream. And it's so sweet that the whole family got together to celebrate her birthday.