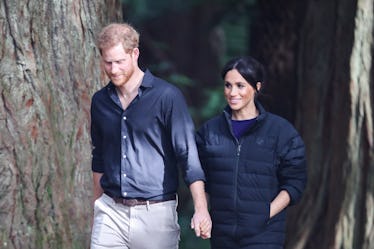 Prince Harry Took The Cutest Photo Of Meghan For Instagram, So There's Nothing He Can't Do
Chris Jackson/Getty Images Entertainment/Getty Images
Prince Harry is surprisingly adept at taking photos for social media. Between his selfies with various fans and a new photo recently published by Kensington Palace, it's clear that Harry is just like everyone else when it comes to snapping pics. In a recent Instagram post, Kensington Palace shared a photo Prince Harry took of Meghan Markle in New Zealand. And believe me when I say that it's an incredibly beautiful photo. You have to see it!
The photo was taken on the couple's royal tour to Australia, Fiji, Tonga, and New Zealand and then shared to Kensington Palace's Instagram on Thursday, Nov. 1. While visiting the Redwood Treewalk in Rotorua, New Zealand, Harry apparently stopped to capture his view of Meghan standing under the trees. In the photo, Meghan can be seen at a distance cradling her growing baby bump and smiling at the camera.
Overall, it's a great photo and really shows that Harry has an eye for the camera. Kensington Palace included a nice message from Harry and Meghan with the photo.
The caption read, "A message from The Duke and Duchess of Sussex: "Thank you New Zealand for the most wonderful last week of our tour. It has been a privilege to meet so many friendly Kiwis. Australia, Fiji, Tonga and NZ - we leave feeling inspired and reminded of how every single one of us can make a difference." 'The rain that refreshes the parched ground, is made up of single drops' - Kate Sheppard #commonwealth 🇳🇿🇦🇺🇫🇯🇹🇴 📷 The Duke of Sussex."
At the end of the caption, you can see that Kensington Palace credited Harry with the photo. So, he's showing off his photography skills and they are wonderful!
You can check out Prince Harry's photo of Meghan Markle down below:
That's not the only photo of Harry and Meghan that Kensington Palace has shared in recent days. On Wednesday, Oct. 31, the palace shared also several photos of the royal couple at the Redwood Treewalk in Rotorua. In the photos, Harry and Meghan are holding hands and smiling as the camera captures them walking through the area. You can check them out here.
In the caption for the photos, the palace detailed Harry and Meghan's visit to the Redwood Treewalk.
"At the beautiful Redwoods Forest in Rotorua, home of treewalks, mountain biking and 100-year old trees," the palace wrote. "The Duke and Duchess of Sussex visited the spectacular Redwoods Treewalk in Rotorua, a series of suspension bridges traversing the gaps between its majestic trees, each with their own living deck to ensure viewing platforms adapt to the trees' rapid growth without any harm."
From the looks of those photos, it seems like the Duke and Duchess of Sussex had a spectacular time. I'm sure this is one royal tour they're going to remember for decades to come! They started this tour by announcing they were expecting a baby, after all.
"Their Royal Highnesses The Duke and Duchess of Sussex are very pleased to announce that The Duchess of Sussex is expecting a baby in the Spring of 2019," Kensington Palace wrote in a Tweet on Oct. 15.
So, that sweet news combined with all the beautiful sights of Australia, Fiji, Tonga, and New Zealand are definitely memories that'll last a lifetime.