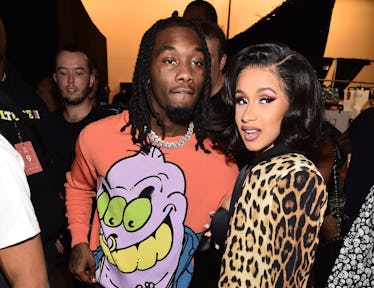 Cardi B Shared A Romantic Photo From Her & Offset's Wedding For Their First Anniversary
Theo Wargo/Getty Images Entertainment/Getty Images
In case you missed it, Cardi B did a very un-Cardi B thing back on Sept. 20, 2017, and married her boyfriend, rapper Offset, in *total secrecy* without the public having any knowledge of it for months. The world finally found out about their secret marriage back in June 2018, after Cardi revealed to her fans that, despite getting engaged in October on stage in Philadelphia (technically after they were officially married), that the two have been technically hitched the entire time. I know, talk about a plot twist, right? So now that the news of their marriage is officially out and it's been an entire year since the date they wed, a photo of Cardi B and Offset's wedding has officially made it to her Instagram account in honor of their big day, and it is all sorts of adorable.
Exactly one year after her wedding date, the Invasion of Privacy rapper posted the sweetest throwback of her with Offset to celebrate an entire year of marriage. On Thursday, Sept. 20, she posted a photo of herself in a white and gold tracksuit holding hands with Offset, who was in jeans and what seems to be a black jacket.
"TBT ...September 20th," she captioned the photo, and my heart could honestly burst right now just looking at it:
According to Entertainment Tonight, the couple shared their nuptials "in their bedroom by a friend, because they knew they just wanted to be united immediately." Hey, when you know, you know.
TBH, I'm just pretty impressed that these two managed to keep their marriage private for almost 10 months, meaning nearly a year's worth of not letting anything slip. Kudos to you, guys!
Speculation that the two were not only engaged but married came about when Offset referred to Cardi as his wife at the BET Awards on June 24, after making an acceptance speech when Migos won the Best Group award. On June 25, Cardi officially let the cat out of the bag, confirming she and Offset had secretly gotten married months before.
Cardi screenshotted a lengthy note and uploaded it to Twitter, explaining why the couple didn't want to publicly announce their news. She wrote:
There are so many moments that I share with the world and there are moments that I want to keep for myself! Getting married was one of those moments! Our relationship was so new breaking up and making up and we had a lot of growing up to do but we was so in love we didn't want to lose each other
She continued, saying:
Was one morning in September we woke up and decided to get married. We found someone to marry us, and she did, just the two of us and my cousin. I said I do, with no dress no makeup and no ring! I appreciate and love my husband so much for still wanting for me have that special moment that every girl dreams of when he got down on one knee and put a ring on my finger and he did that for me!!
The ring she's talking about is, of course, the very blinding piece of bling Offset got down on one knee with in October 2017, asking for Cardi's hand in... marriage? Re-marriage? Marriage 2.0?
Here's a better picture of the rock, just so you can understand my utmost appreciation for this jaw-dropping piece of jewelry:
It makes me so happy that Cardi didn't even need that ring to marry her man, though — she was excited to recite her vows with no makeup on, no wedding dress, and no crowd of people to celebrate with after. That's true love, y'all.