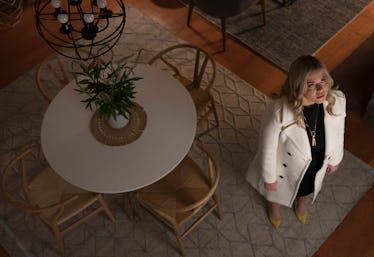 5 Questions We All Have After Watching The First Episode Of 'The Perfectionists'
Freeform/Allyson Riggs
This post contains spoilers for Pretty Little Liars: The Perfectionists. Fans reunited with two former Liars during the March 20 premiere of new spinoff series Pretty Little Liars: The Perfectionists, but catching up with Alison and Mona became the least of viewers' concerns. Teaching assistant Alison suspected that wealthy college student Nolan Hotchkiss was blackmailing other kids, but Nolan was found impaled on a fence before anyone fessed up about his manipulation. His mysterious murder in The Perfectionists premiere left fans asking questions, so we're here to narrow down as many of them as possible.
ICYMI, Pretty Little Liars' Alison (Sasha Pieterse) and Mona (Janel Parrish) joined forces in The Perfectionists as co-workers at the picturesque Beacon Heights University, known as the safest college campus in Oregon. After slightly unclear circumstances left her Paris life lacking, Mona began a new position as a BHU recruitment and admissions staffer and hired former mean girl Alison as a teaching assistant. As Alison's relationship with Emily (Shay Mitchell) lacked a sense of trust, she felt prepared to leave Rosewood and give Emily some space.
Both women were determined to leave their pasts behind them and start fresh at the college, but Alison soon began to feel that she was at BHU for a bigger reason. She learned that she resembled Taylor, the dead daughter of benefactors Peter and Claire Hotchkiss, and believed the similarity was more than just coincidence. Meanwhile, Taylor's brother Nolan (Chris Mason) was striking terror among his peers by blackmailing them to follow his commands. Little did they know, Nolan was working with a very alive Taylor (Hayley Erin) to determine why their mother (Kelly Rutherford) was using the school security system to spy on Nolan and the students he pressured.
When we last saw Nolan, he was telling a hidden figure that Taylor was alive and begging him or her for help. Mirroring his fake girlfriend Caitlin's (Sydney Park) vision of how she'd kill him, Nolan was then found dead while hanging from a fence. The Perfectionists' murder was promised from the beginning, but now that we know about the victim and other characters' circumstances, it's time to break down our biggest questions about the series.