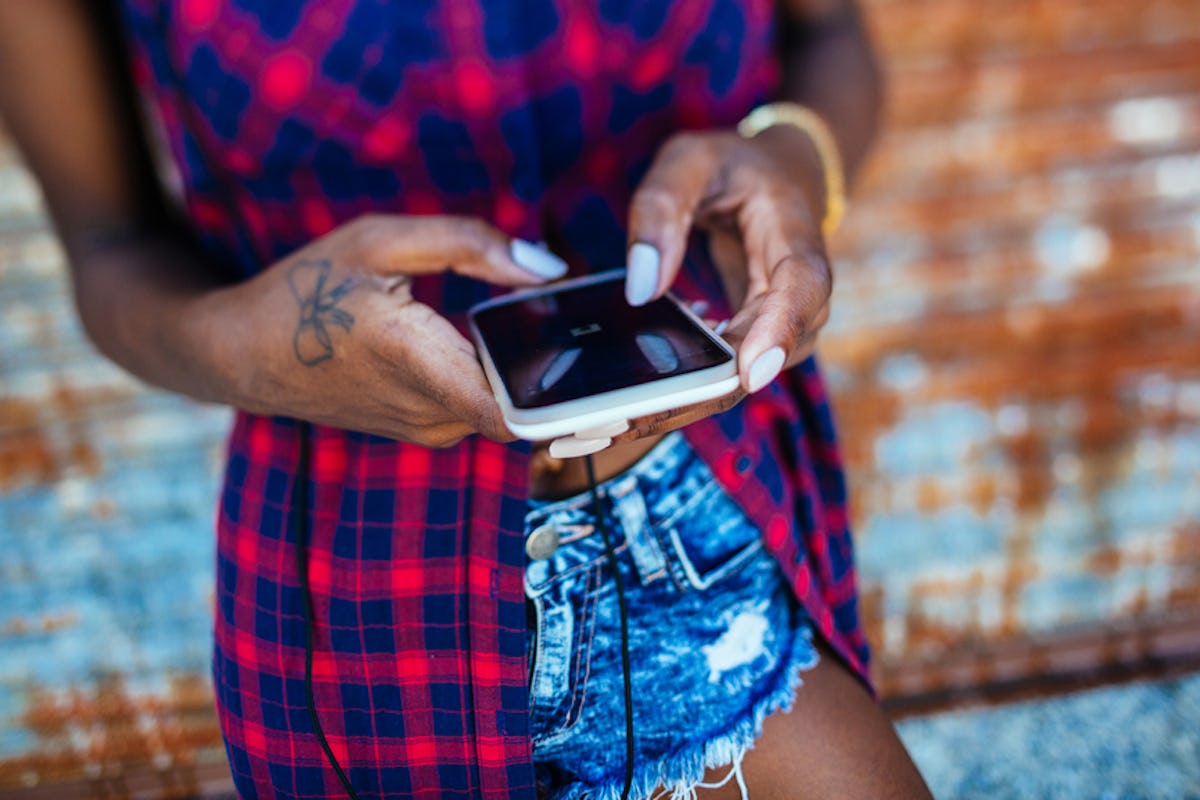 Use The Ultimate Tinder Bio For Your Zodiac Sign To Get The Best Matches Possible
Scientific evidence is great and all, but when it comes to dating, it doesn't always do the trick. As far as your love life is concerned, if all else fails, I say turn to the stars. Is the person you're into watching your Snapchat story but not texting you back? Mercury is probably in retrograde. Does it feel like literally all of your past hookups are hitting you up at the same time, totally out of the blue? Your weekly horoscope likely has an explanation. And of course, there is a perfect Tinder bio for your zodiac sign, because sometimes astrology just knows.
So if you're looking to attract more matches or better quality matches on dating apps, why not consult the stars? It's not foolproof, but there are times where astrology can provide answers that us mere mortals simply do not have. Your sun sign is a seriously useful tool to use when dating, because it reflects your personality traits, including your likes and dislikes. Essentially, the zodiac provides insight that can help you snag a hot date who you're actually compatible with. It's not magic and it's not quite science, but that doesn't make it any less valuable. Here is the ideal Tinder bio for each sign.
Aries
As an Aries, you crave results. You're all about action — so let your matches know you're not afraid to take initiative by crafting a bio that commands attention. Provide the perfect conversation starter by listing a few first date options you'd be into, and letting the other person choose.
"On our first date, would you rather...
a.) Grab a drink.
b.) Go dancing.
c.) Introduce me to your dog."
Taurus
You're a devoted partner, Taurus, so make your sense of commitment clear from the start. Avoid scaring off potential matches by incorporating an element of humor. "I'm in a serious relationship with my bed, but we're looking for a third," should do the trick.
Gemini
Curiosity is what drives you, and you love a good conversation with anyone who can keep up. Propose a "controversial" question to attract someone who is as loquacious as you. "Who would win in a fight: Game of Thrones' Arya Stark or Stranger Things' Eleven? Discuss."
Cancer
Emotional and intuitive, Cancers need to be around other people. You require a lot of love, but you always reciprocate. Poke fun at how much you care with a bio that is straight up honest. "I'm like your favorite pair of jeans... clingy, but in the best way."
Leo
Leo, let your confidence shine. Create a bio that shows off your best qualities, literally. Write "reviews" letting your matches know why you're a 10 out of 10. Whether you go with, "She turned me down." - People's Sexiest Man Alive or, "I have a five-star Uber rating," you're sure to get the attention you deserve.
Virgo
Ever the practical one, you need a bio that shows your attention to detail. Tell your matches exactly what you're looking for with a thorough list of requirements they must meet. "Looking for a partner in crime. Must enjoy long walks in the park, be extremely loyal, and always get excited when I come home from work. Bonus points if you're actually a dog."
Libra
You're known for your fairness, so you tend to give everyone an equal chance. Let your matches impress you by posing a question in your bio. "What motivates you?" is sure to intrigue potential matches. Plus, their answers will likely be quite telling.
Scorpio
You love being right, Scorpio, and that's OK. Use your resourceful nature to help you sift through potential matches from the very beginning. Pose a riddle and see how many takers you get. Need a suggestion? Try, "I stay in the corner, but travel around the world. What am I?" (The answer is a stamp, btw.)
Sagittarius
You need someone as openminded as you, who will give you the freedom you need to explore the world around you. Your bio should read like a lighthearted wanted ad. "Girl with wanderlust seeks travel companion for adventures large and small. Boring people need not apply."
Capricorn
You have your sh*t together, and you need a partner who shares your sense of responsibility. Get right to the point by telling your matches, "I'm looking for someone I can bring home to my mom." Feel free to get more specific, depending on what's applicable. You might want to use the phrase "a nice Jewish boy" or "a girl who loves books" in the place of "someone," for example.
Aquarius
You're fiercely independent, and you're not afraid to fight for what you believe in. You deserve someone who respects you, so put "Feminists only" in your bio. Potential matches will know to cut the BS when messaging you.
Pisces
You're a hopeless romantic, which means you tend to fall fast and hard in relationships. A meaningful quote from your favorite film or song will help potential matches to better understand who you are. "I must endure the presence of a few caterpillars if I wish to become acquainted with the butterflies" from The Little Prince is lovely — as well as fitting for those who are actively dating.
If you want to find a Tinder match that feels like it was written in the stars, you should probably start by rewriting your bio.