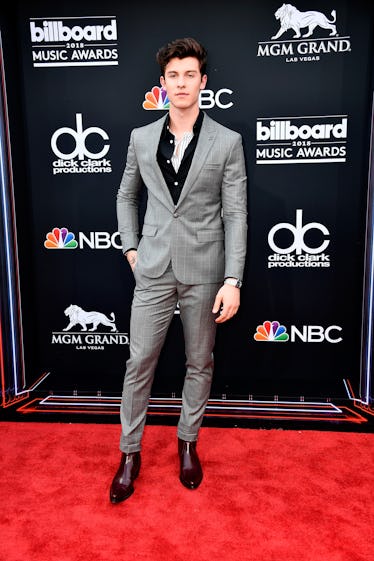 Shawn Mendes & Khalid Performed A Powerful Tribute With Parkland Students At The BBMAs
Frazer Harrison/Getty Images Entertainment/Getty Images
OMG, you guys! Just when I didn't think I could love Shawn Mendes any more, he goes and teams up with Khalid for the first TV performance of "Youth" — their song that came about after the 2017 terrorist attack on London Bridge — and the whole thing was just so emotional! The duo performed the song with a choir made up of Parkland Students at the 2018 Billboard Music Awards, as a tribute to those affected by gun violence. What a statement! I am still not over it, and I don't think I ever will be! It looked like most of the audience was in tears, and the performance just seriously blew me away!
Shawn and Khalid started the performance alone on stage, performing a stripped-down version of the song with no frills, but toward the end of the song, Parkland students marked onto the stage and joined in singing the chorus of the song.
You can't take my youth away / This soul of mine will never break / As long as I wake up today / You can't take my youth away / You can't take my youth away
I think it's amazing that Mendes and Khalid teamed up to use their respective platforms to shine a light on such an important issue like gun violence. These two are the real deal.
On May 20, ShineMSD, a nonprofit created by two other Parkland students, hinted at the surprise performance on Twitter when they urged their followers to tune in to the BBMAs.
"Tune into the billboard awards tonight at 8 for a surprise!!" the organization wrote in their post. I'm so glad I did!
According to TMZ, Mendes and Khalid wanted to shed light on the recent tragedies, including the most recent shooting at Santa Fe High School in Texas on May 18 that left 10 dead. BBMA host Kelly Clarkson is from the state of Texas, and producers were reportedly left scrambling to work in the Santa Fe tribute.
"Youth" was a perfect choice, since it's a song with a message about the way pain and tragedy can steal your youth. In an interview with Zane Lowe for Apple Music's Beats 1, Mendes explained how it came about following that 2017 London attack.
"There was the attack on the bridge, and I remember that day thinking, like, 'OK, I gotta text Khalid," Mendes said. "When I texted him, I said, 'When we get together, we have to make a statement. We have to move. We have to write about what's going on in life and how the youth is feeling because I think we have the voice to do that.'"
So incredible!
"I remember I woke up in the morning and the whole thought of my youth trying to be taken away from me was overwhelming," Mendes continued. "Not youth as in my age — youth as in my love, my happiness, my joy, my purity. It's not even about age; you could be 50 and your youth is there. It's in you. And all of these horrible things happening in the world, all of the headlines, it felt like every day it was just being pulled more and more out of us. I was like, 'This is what we have to write about.' And It was awesome. I'm really, really proud of the song."
Fans on Twitter are proud, too, and they are losing it over the emotional performance.
Honestly, the fact that Mendes and Khalid brought the survivors from the Parkland shooting on stage at the BBMAs makes me really freaking happy! The collab was incredibly inspiring, and fans are just so touched by the way Mendes and Khalid have embraced the #NeverAgin movement in order to help the world become a safer place. I am so proud to be a fan of both of these amazing performers. Shine on, guys!