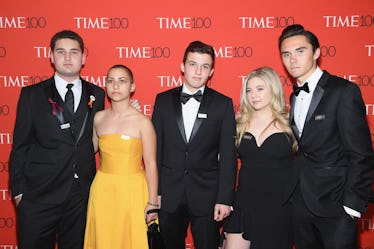 The Parkland Students Met The Waffle House Hero & The Future Is Just So Bright
Dimitrios Kambouris/Getty Images Entertainment/Getty Images
Mass shootings in schools and public places have been at the forefront of everyone's minds recently. Personally, I am always amazed that the world has come so far and things like this still happen. But amidst all that darkness, there's also been a spike in young people fighting for a brighter future, and some of them have finally been introduced. The Parkland students and James Shaw met up, and it was just so much good in one place.
Shaw is being called a hero after wrestling the gun away from an armed assailant in a Waffle House in Nashville, Tennessee on April, 22. He stopped an active shooter, which is more than enough to be called a hero in my book. So it's only fitting that he met up with some other heroes — on Saturday, May 12, Shaw met up with the Parkland student activists who are on a mission to stop mass shooting around the world — after surviving one in their high school on February 14.
They're all survivors, and all heroes in their own way.
Even though Shaw is being hailed as a hero, his personal heroes are the Parkland students. He was just so humbled and honored to meet them, according to his tweets. "Meeting the young adults of the Parkland incident so much fire and inspiration in their eyes was a great joy," he wrote.
The feeling was definitely mutual, though. Parkland activist David Hogg also tweeted from their breakfast meeting in Florida saying, "Wow just, wow @JamesShawJr9 lots of work ahead but the young people will win #YPWW." Young people will win, and I am also glad that I know that there's a hashtag for it now.
The Parkland students became activists out of circumstance just like Shaw. On February 14, a gunman entered Marjory Stoneman Douglas High School in Parkland, Florida and killed 17 students and teachers. After that, the Parkland students got together and committed themselves to fighting for gun reform so every child can go to school feeling safe. So they made their voices heard online, in the news media, and also organized the March for our Lives protest to call for gun control reform back in March.
Like many of us, Shaw finds inspiration and heroism in the Parkland students' activism in the face of tragedy. Shaw also tweeted a picture of himself and Emma González holding a bright blue teddy bear. He wrote, "I met one of my heroes today @Emma4Change."
This tweet is particularly intriguing because González had a similar tweet on April 28. After Kanye West tweeted a picture of González with the caption, "my hero Emma González." González, instead of acknowledging West (who had been on a pro-Trump Twitter rampage), decided to instead troll West by tweeting the exact same thing (double spaces and all)... but about Shaw.
Why are these young people so clever?
On Sunday, April 22, Shaw was grabbing some breakfast with a friend when a nude gunman opened fire on a Waffle House in Nashville. Shaw told NBC's Today on April 23, that he heard gunshots, saw the gunman, and jumped from his seat to the bathroom. He said,
When I first heard the gun shots immediately it's like a what's-going-on type of feeling, and I saw a gentleman near the door of the Waffle House and I jumped from the high countertop seats and jumped toward the bathrooms.
Shaw said that he was waiting for an opportunity to try and help because he felt that the shooter was going to "get [him] either way." So he waited for a chance to act, and when opportunity struck, he went for it. He said,
I was waiting for chance, so when I saw the barrel down I saw an opportunity, and I attacked and took it and it worked out for myself and others who were in the Waffle House at same time.
"The Waffle House Hero" as he's being called these days, wrestled the AR-15 gun out of the shooter's hands. Before Shaw managed to get the gun away, the gunman killed four people and injured four others, according to ABC. Shaw saved a lot of other people from being killed or injured that day.
But Shaw didn't stop there, he also set up a GoFundMe to help the families of the victims. The campaign has now raised over $240,000. There's also a GoFundMe for Shaw going around — created by New York Magazine reporter Yashar Ali — that's rasied over $220,000.
Shaw and the Parkland students have different experiences with guns and activism, but they are both victims of shootings. They only met for the first time May 13, but I imagine that their bond is strong and they will fight together to put an end to gun violence.