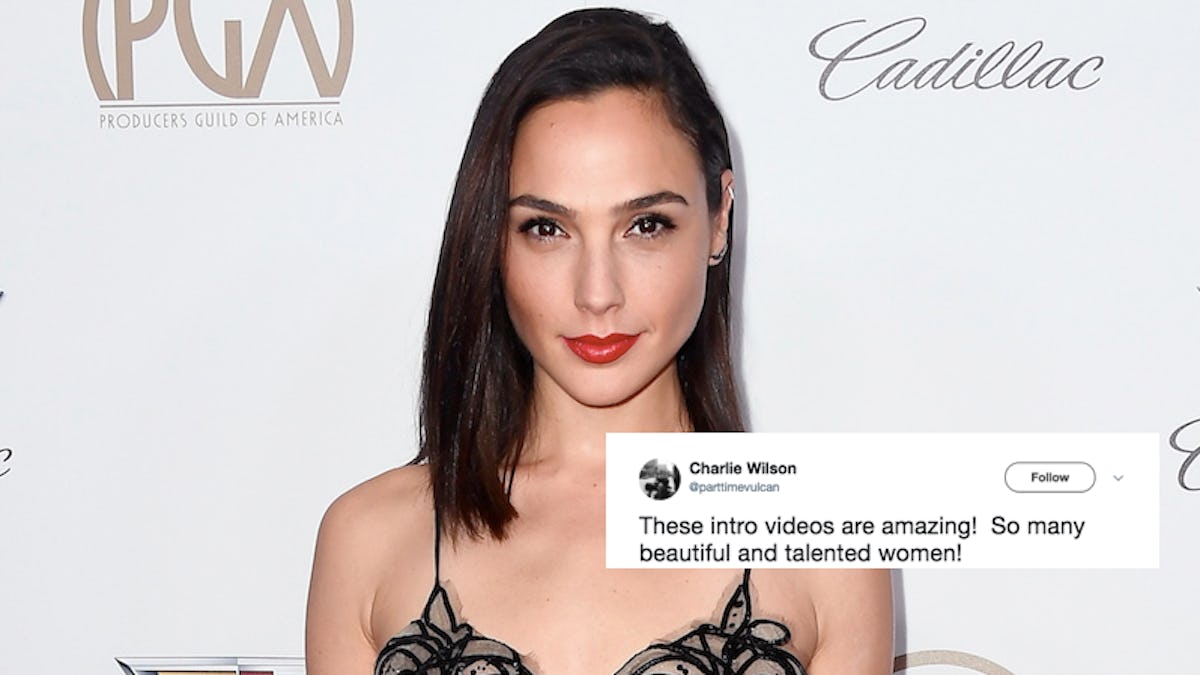 The Oscar Nomination Videos Featured Only Women & Fans Were Feeling It
Getty Images
When the 90th Academy Award nominations were announced on Tuesday, Jan. 23, viewers were in for a little treat. To celebrate the milestone anniversary and the tone of the past year in Hollywood, the live-streaming Oscar Nominations included themed introduction videos featuring actresses before each category, and fans were into it. While we may have thought the attempts were a little extra at first, some of the videos actually turned out to be hilarious. Can we make these intros an annual thing, Academy members?
Starring in dramatic, elegantly shot clips related to the category they introduced, actresses such as Gal Gadot, Molly Shannon, Rosario Dawson, and Rebel Wilson gave an entertaining twist to what is normally a pretty straightforward affair. Their brief moments in the spotlight, combined with witty banter from announcers Andy Serkis and Tiffany Haddish, definitely helped me keep watching the nominations past the less publicized technical categories.
After kicking off the live broadcast with a commemorative video celebrating the 90th anniversary, the Academy played it smart and began with Production Design nominees, which Wonder Woman star Gal Gadot's intro video preceded. As many hopeful fans had their fingers crossed for Gadot or her film to snatch up a surprise nomination (which neither did), this move must have kept superhero lovers invested immediately.
Also including Michelle Rodriguez, Priyanka Chopra, Michelle Yeoh, Salma Hayek, and Zoe Saldana, the intros notably highlighted women normally not in films that garner attention from the Oscars. Additionally, some introductions fit perfectly with the kind of work the women are best known for. For the Film Editing category, Shannon, recognized for her comedic parts, played up the role of a damsel in distress that a train is about to run over. Helping to introduce the Animation categories, Pitch Perfect star Rebel Wilson danced in a Mary Poppins-esque segment alongside animated diner kitchen items.
Twitter users, who aren't exactly known for embracing changes to such an old custom, even seemed to love the videos. Five points for the Academy!
As one viewer pointed out, the introductions' roster of stars included a majority of women of color, who must work harder than others to find success in the film industry. Wilson, a plus-size actress, and Shannon, who is 53 years old, also represented types of women who may have difficulty finding rewarding work.
Many of the women are also vocal on social media about politics and civil rights, further emphasizing Hollywood's Time's Up movement to protest sexual harassment in the workplace. On the night of the Golden Globes on Jan. 7, Saldana was one of many actresses to watch the awards from home and still wear black in honor of the #MeToo message. Posting an Instagram photo of herself watching the ceremony, she wrote, "Women are important. Not Hollywood women, not younger women, not lighter, or darker, or bigger, or smaller, or greater, or smarter, or weaker, stronger...but women. Just women."
Want to take bets on her knowing about her role in the nominations at this point?
Similarly, Gadot has recently posted photos in support of the Women's March, while Hayek's infrequently used Twitter always draws attention to women's equality around the world.
The Academy teased about the women's involvement earlier in the week, posting behind-the-scenes photos of the introductions' filming process.
There was definitely a great reason behind the selection of these particular women for the Oscar intros. Although the Academy is far from achieving total inclusion, it's little details like these videos that help begin a pattern of diverse involvement for years to come. Here's hoping that we see similar broadness of presenters at the Oscars.
The Academy Awards air live on March 4 at 8 p.m. ET / 5 p.m. PT on ABC.