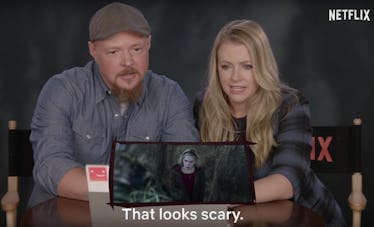 The Original 'Sabrina' Cast Freaked Out Over 'Chilling Adventures Of Sabrina' In This Video
Netflix
Sabrina Spellman certainly has changed a lot since the '90s! Netflix just released its new teen horror series Chilling Adventures of Sabrina, and even though it is all about a young witch named Sabrina Spellman who lives with her aunts Hilda and Zelda and loves her mortal boyfriend Harvey Kinkle, that is where the similarities to the classic ABC sitcom Sabrina the Teenage Witch end. To underline that drastic difference, Netflix brought in the Sabrina the Teenage Witch cast to watch the new show, and the original Sabrina cast's reaction to Chilling Adventures of Sabrina is so perfect.
Although both Sabrina the Teenage Witch and Chilling Adventures of Sabrina are based on the Archie Comics character of Sabrina Spellman, the casts of both shows have made it clear from the start that the two series could not be more different from one another. Melissa Joan Hart correctly predicted that the new series would feel more akin to a darker, supernatural drama like Buffy the Vampire Slayer than the more lighthearted, jokey sitcom that she starred in. And now that Chilling Adventures of Sabrina has finally premiered, the original Sabrina stars can see for themselves just how different the new show is from theirs.
Sabrina the Teenage Witch stars Melissa Joan Hart, Nate Richert, Caroline Rhea, and Beth Broderick sat down to watch some scenes from Chilling Adventures of Sabrina and share their reactions to the new adaptation in a Netflix digital clip. Let's just say there was a lot of gasping and eye-covering. Check out the featurette below:
The OG Sabrina stars emphasized what most viewers probably felt when they started watching Chilling Adventures of Sabrina: it is way, way scarier than anyone really expected. And it also gets sexier. During a scene in which Sabrina and the Weird Sisters seduce a group of boys in the mines, Caroline Rhea and Beth Broderick snapped back into their maternal roles, exclaiming "This is not our Sabrina!" and "We would have never allowed Sabrina to behave this way." Melissa Joan Hart also noted that she would probably have to keep this new show away from her kids for a while.
But despite the shocking differences, the original stars wound up totally digging the new show. Caroline Rhea noted that Kiernan Shipka's Sabrina is empowered, and that Salem is actually a real cat as opposed to the "alcoholic rabbit in a hairpiece" from Sabrina the Teenage Witch. And Melissa Joan Hart and Nate Richert marveled at the attractiveness of the new cast, although Richert did jokingly warn about a potential "Harvey curse" of going bald after the series.
Unfortunately, Chilling Adventures of Sabrina did not really make any nods or winks to Sabrina the Teenage Witch in its first season, but showrunner Roberto Aguirre-Sacasa actually was planning a big tribute to the first show. He revealed that Sabrina was originally going to be trapped in a nightmare that looked like a '90s sitcom in one episode, but that idea was changed to a gorier nightmare.
Although that tribute was scrapped, Aguirre-Sacasa teased that there would be little nods to Sabrina the Teenage Witch in future episodes, so keep your eyes peeled when Season 2 drops!