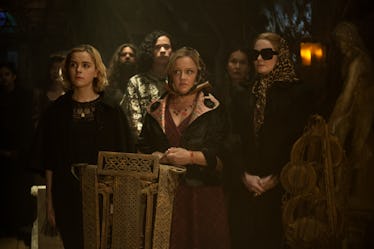 The 'Sabrina The Teenage Witch' Cast Sent The New Actors "Best Witches" In This Epic Video
Netflix
For the majority of those impatiently waiting for the weekend so they can start binging Chilling Adventures of Sabrina on Netflix, the show is a spinoff of the already-established Riverdale series on The CW. But there is a second group of fans who are also eager to see Sabrina, ones who know this spinoff is actually the second iteration of the Spellman clan, having grown up watching Melissa Joan Hart in Sabrina: The Teenage Witch on ABC. Fans aren't the only ones. It turns out the original Sabrina: The Teenage Witch cast members are also looking forward to the new series, and have recorded a video wishing those carrying the legacy forward good luck.
The original Sabrina was Melissa Joan Hart, fresh off of her Nickelodeon show Clarissa Explains It All. Her family was comprised of two aunts played by Beth Broderick and Caroline Rhea. Broderick, who later became known for her role as Diane Janssen on Lost, played Zelda. Rhea, who went on to host The Caroline Rhea Show, played Hilda. Sabrina's boyfriend, Harvey, was portrayed by Nate Richert.
The four of them got together and recorded a video to their 21st Century counterparts: Kiernan Shipka (Sabrina), Miranda Otto (Zelda), Lucy Davis (Hilda) and Ross Lynch (Harvey). The cast also had a bit of advice.
From our coven to yours, best witches!
Melissa Joan Hart's advice was about witch decisions she may have to make:
So tomorrow, The Chilling Adventures of Sabrina drops on Netflix, and I just wanted to send my best witches to Kiernan Shipka, aka the new Sabrina Spellman. By the way, from one Sabrina to the other... if you're ever given a choice between a broom and a vacuum, choose the vacuum.
Nate Richert gave the new Harvey a little bit of dating advice:
I just wanted to say hello to the new Harvey, Ross Lynch. I hear the new Sabrina is scarier and pretty damn twisted. I'm rooting for you buddy. Stay alive!
Beth Broderick wished Otto "all the best." Caroline Rhea turned out to be excited her counterpart starred in Wonder Woman, and said Davis taking over the role of Hilda meant she got to take over Davis' part in Wonder Woman 1984.
I get to be Etta Candy. I'm so excited! Can't wait to see The Chilling Adventures of Sabrina.
The only two characters of the Spellman household who didn't get a greeting were Ambrose (Chance Perdomo) and Salem the cat. This is partly due to how the series has evolved since the 1990s. Ambrose wasn't a character. Instead, his part of a warlock under house arrest was given to Salem who was an animatronic puppet that talked, giving Sabrina advice on life.
In the new series, Salem does not talk, though he does meow quite a bit when he has kitty opinions about the current situation. Instead, Ambrose is the one dispensing the life advice to Sabrina.
Chilling Adventures of Sabrina Season 1 arrives on Friday, Oct. 26, 2018 on Netflix with 10 episodes. Season 2 is already filming and will follow in 2019.