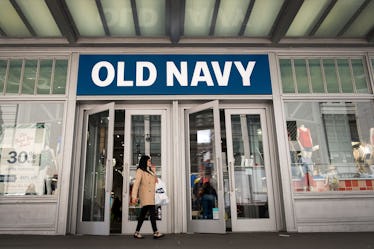 The Old Navy 2017 Black Friday Sales Will Literally Slash Your Holiday Spending In Half
Drew Angerer/Getty Images News/Getty Images
Have you ever watched Extreme Couponing on TLC? If you haven't, you should; the bargain hunters find deals that would make any extremely frugal mother weak in the knees. But after seeing Old Navy's Black Friday sales, I'm convinced that they'd send even the most avid of Extreme Couponers into a fit of elated hysterics. Yes, they're that good.
While Elite Daily already told you about Old Navy's Cozy Sock One Dolla Holla Sale, which is pretty epic in itself, the retailer's Black Friday slashes are a whole other beast. Starting on Wednesday, Nov. 22, the day before Thanksgiving, everything sold in stores and on Old Navy's website will be 50 percent off, with the exception of gift cards and jewelry. The deal will last through the end of the day on Black Friday, meaning you will have ample time to select your purchases with care and make a return trip.
On Nov. 22, Old Navy stores will be open from 9 a.m. to 10 p.m.; on Thanksgiving Day, they'll be open from 3 p.m. to 1 a.m.; and on Black Friday, they'll open at the crack of dawn at 5 a.m. and close at 10 p.m. I'd like to take a moment to personally thank the Old Navy staffers who are working those insane hours — you are heroes!
In accordance with the giving spirit of the season, the retailer launched a "pre-party" sale — and it's a rager. The Black Friday warmup began yesterday, Nov. 16, and will run through Nov. 21, with shoppers receiving 40 percent off all purchases online and in stores upon checkout.
As if that weren't enough, the brand will also be offering a three-day Cyber Monday sale. Everything will be 40 percent off on their website all weekend following Black Friday, and on Cyber Monday, the discount grows to 50 percent off. No. Coupons. Necessary.
Here's what I'll be buying — remember to mentally divide each price by two.
Some Shady Denim
I own way too many black jeans, so this gray pair is a nice departure from my usual, while still remaining super neutral. I love the high waist and the fact that the wash isn't overly bleached out.
A That '70s Show Skirt For Today
A '70s-style, button-up suede skirt will NEVER get old. Pair this one with a fitted turtleneck and flirt with any Fez dopplegangers you encounter.
A Parisian Sweater For Americans
If Old Navy hits anything out of the park, it's basics. To me, a simple striped top is the epitome of French-girl chic. Say oui to this one.
My Replacement Dream Coat
Faux leopard jackets are my absolute FAV winter wardrobe item. I used to own two, but left the cuter one at a bar one night (cue mascara tears). While I've never gotten over that loss, it seems I might have found a replacement in this collarless variation. It looks super soft and like an ace vintage find.
A Dreamy Boho Dress That Hides All Sins
I love the floral print of this dress but, more than anything, it just looks insanely comfy. The subtle ruffled hemline gives it a fancier touch, but underneath, you can literally wear long johns.
An Après Ski Knit For Non-Rich People
I pray that one day I will have enough money to actually indulge in a Swiss ski chalet. Until then, this cozy ski sweater fulfills my longings.
Some Beatles-esque Boots
A statement boot is the best way to show off your style when your clothing is always covered by a giant puffer. This pair will add mad style vibes to any outfit, even if you're not in a Beatles cover band.
The Prettiest Pink Puffer
Speaking of puffers, this blush one actually makes quite the sweet statement.
Touchy-Feely Gloves
If your bare fingertips always freeze off anytime you have to text or press next on Spotify, you need these text-friendly gloves. Don't get frostbite.