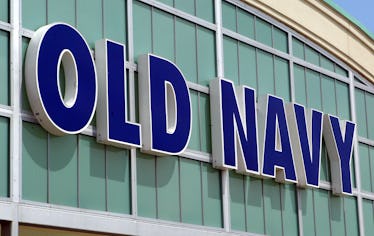 Old Navy's $1 Black Friday Sale Is Most Insane Deal Yet
Tim Boyle/Getty Images News/Getty Images
As soon as the temperature drops below 60 degrees, I whip out my cozy sock box faster than Usain Bolt runs a race. At stores, I beeline to the sock section and scavenge for the quirkiest pairs I can find. Accordingly, the Old Navy Black Friday sock sale is everything your girl could want — and more. I'll be feeling all types of blessed come Thanksgiving weekend, and somewhere in the distance, I can totally hear DJ Khaled yelling #AnotherOne.
On Black Friday, the trendy retailer is shelling out adorable socks for merely $1 a pair, making sure our southern extremities will be toasty AF all season long. Old Navy's Cozy Sock One Dolla Holla Sale (which is a genius name for this once-in-a-lifetime level event) is bound to be a smash hit. Old Navy socks can normally be priced at $5 or more for a pair, after all.
If that wasn't reason enough to stockpile pairs, it gets better. Old Navy will donate all the proceeds, for every single pair of socks sold, to the Boys & Girls Clubs of America. So now you don't have to feel guilty about being a consumerist on Thanksgiving, because you're helping a fantastic cause.
If you're unfamiliar with the Boys & Girls Clubs of America, we got you BB! Founded in 1966, the club was created to enable all young people to reach their full potential, and grow up to become productive, caring, and responsible citizens. According to its website, regularly attending club members (ages 12-17) often outperform their peers in school. The kids really are our future, so I expect you all to be at Old Navy's doors before they open.
Here are some of the absolute best socks for the sale, but let's be honest, I'm probably going to purchase like 20 pairs. It's for charity after all.
Socks To Convince People Unicorns Are Real, Like Rainbows and Sunshine
Look at these colors! Can you say Unicorn #Goals? This pair is definitely going to be my, "I have a sense of humor, but also unicorns totally exist" statement.
Socks That Will Make You Want To Yell "Panda, Panda, Panda"
You bet your bottom dollar (pun intended!) that I am going to Instagram these yelling "Panda, Panda, Panda." Are we over that yet? If your answer is yes, then you must not have gone out to a bar on a Friday night. "Panda" will always be a classic!
Socks To Fulfill All Your Buffalo Check Dreams
Who doesn't love a good red buffalo check situation? These may be a little overkill if paired with your red buffalo check long sleeve shirt, but who am I to tell you how to live? The holiday season is upon us and anything goes during the holidays. Not featured is a mug of hot cocoa. You have to buy that on your own my friend!
Socks That Will Make You Want To Watch Frozen
Do you want to build a snowwwmannn?! Not in these cozy socks, but you can definitely find me sitting by the fire watching an Christmas classic.
Socks That Will Make You Red-Nosed
We're going to take a lucky guess that these fluffy brown socks feature Rudolph. The red nose totally gave it away. No reindeer were harmed in the making of these socks, and I can definitely see myself rocking these during the 25 Days of Christmas countdown.
Socks To Remind You Of Christmas Cheer, Singing Loud For All to Hear
I'm a bit old to believe in Santa, but I very much still like to bake cookies and leave out almond milk for him. It's 2017, Santa deserves almond milk in his life. Every time I see a pic of the big guy, it totally brings back memories of tracking him on the computer and jumping into bed when he finally reached the East Coast.
Socks That Will Remind You of Napoleon Dynamite, In A Good Way
I don't know why these socks remind me of Napoleon Dynamite, but they for sure make me laugh. Which means they are totally going in my shopping cart!
Socks That Will Take You Back In Time To The Coke Commercials
Growing up, I knew it was time for Christmas to begin when I saw the Coke commercial with the polar bears. I don't know what it was about that particular commercial, but I watched it through every time. These socks keep that nostalgia alive.
Socks That Will Semi-Fulfill Your Penguin Obsession
Sadly, penguins can't be pets, so these socks will make you smile everyday in the absence of an actual penguin. Seriously, does anyone know where I can visit the best kind of bird this holiday season? They are just so adorable.
Socks That Will Put A Gingerbread House To Shame
Chenille Gingerbread Socks
Old Navy
$5
I'm not artistic at all. I was definitely the girl in kindergarten who conceptualized her gingerbread house, then had someone else execute it. There's no better way to compensate for my creative shortcomings than nestle into a pair of gingerbread socks.