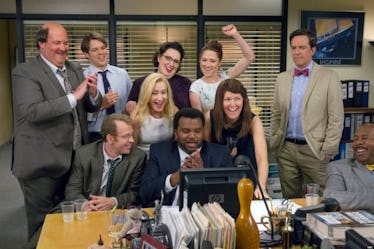 'The Office' Illustrated Essays Are Coming, So Pack Your Bags For Scranton, PA
NBC
Despite many a rumor about NBC considering an Office revival, there hasn't exactly been any progress on the idea becoming reality. Anyone wanting a new fix of The Office has had to resort to bingewatching old episodes, but we'll soon have a fresh, unique look at our beloved characters that's definitely different from anything I've seen. The Office illustrated essays are coming, and these will definitely keep me satisfied until a reboot is finally official.
BuzzFeed reports that writer Shea Serrano and artist Arturo Torres have partnered together following the success of their bestseller Basketball (and Other Things) to create a book of illustrated essays about The Office. Serrano and Torres previously hinted at their interest in The Office in a chapter of their first book, where they included an illustration of Jim Halpert as he appeared in the "Basketball" episode. Basketball (and Other Things) even discussed the character at length, but the brief foray into that material inspired the duo to work with The Office even more.
Serrano told BuzzFeed:
We were both wanting to start a newsletter or something solely about The Office because we both still watch the show all the time and, so we started working on building it.
The book, called Conference Room, Five Minutes, pairs Serrano's essays with Torres' drawings, and it sounds like any iconic moment you love from the series is featured in the collection. In his tease of the material, Serrano told BuzzFeed:
Each essay is about a different thing. There's one, for example, that's about the most perfect couple from The Office (it's not Michael and Holly or Jim and Pam, FYI). There's another one that's about the Prison Mike episode.
If this book isn't putting Jim and Pam on a throne of worship, I'll have to read it and ensure that they're still seen in a fair light. In the name of love, of course.
On July 23, the book will be available for digital download, but apparently the ability to access the book may disappear soon after its release. Since Conference Room, Five Minutes isn't debuting through a big publishing house, it seems that the Serrano and Torres' work goes beyond filling the pages of the book. Serrano told BuzzFeed:
It's a lot of work maintaining all of the parts involved with it. I'll probably take it down a week or so after it officially goes live. My greatest hope, though, is that people steal it and then pass it around to their friends on some, like, Napster sh**.
Depending on when I get around to ordering this, I may have to resort to those slightly illegal "Napster" downloads that Serrano seems to encourage.
I love the idea of a illustrated book explaining why we love The Office so much, and seeing as the show's potential revival appears to be in limbo, we may as well take what we have and be grateful. While Steve Carell has vetoed the idea of the series returning for more episodes, John Krasinski recently offered up a compromise that could even draw in Carell, telling IGN UK:
I love the idea of coming back together [but] I think it'd be impossible to get us all together to do a run of the series. But [British shows] have the Christmas specials. That is such a brilliant thing in television programming, to do a once-a-year sort of check-in with your favorite shows. I absolutely think we should do that, and I don't know why more shows don't do that.
Meanwhile, NBC Entertainment chairman Bob Greenblatt has hinted that he's up for a revival series, but until he's willing to put a plan into action, I'm ready to just revisit the original show through things like Conference Room, Five Minutes.