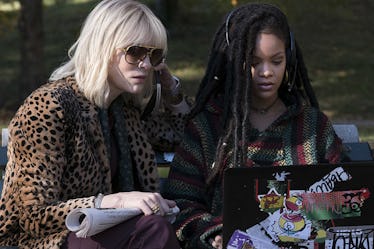 The 'Ocean's 8' Soundtrack Is Officially The Badass Playlist You Need This Summer
Warner Bros. Pictures
Ocean's 8 was unbelievably awesome, but now, things are about to get even more exciting. The Ocean's 8 soundtrack is available in not just one, but two forms, and it's every bit the badass playlist you need this summer. Need a little motivation at the gym? Cue up "Superfly," Curtis Mayfield's jazzy number that will keep you on the treadmill long after you've hit five miles. Looking for a catchy summer jam? Check out The Black Keys' "Gold On The Ceiling," an upbeat single that will inspire you to plan your own heist. The Ocean's 8 soundtrack has something to fit your every mood, so don't be surprised if it becomes your go-to Spotify search this summer.
When I say that the Ocean's 8 soundtrack is available in two different forms, I mean that there's an official and an unofficial soundtrack for this amazing movie. The official Ocean's 8 soundtrack is available on Spotify and includes 24 original tracks from Daniel Pemberton, the film's composer. These tracks are named after important moments and characters from the movie — including "We Are Going To Rob It," "Nine-Ball," and "Hacking The Met" — and are primarily instrumental. That's not to say that the tracks aren't awesome (they are); they just won't make the best karaoke songs.
The unofficial Ocean's 8 soundtrack is where things get really exciting. Ocean's 8 contains an awesome mix of pop, country, and jazz songs young and old, and the playlist will leave you bopping your head all summer long. According to WhatSong, there are 19 songs featured in the movie, and if you've seen Ocean's 8, you know they're all perfectly timed to fit the movie's events. The songs in Ocean's 8 vary wildly in tone and genre — Bach's "Fugue In D Minor" is just a little different than "Hypnotize" by The Notorious B.I.G., I would say — but together, they do a great job of accentuating the movie's heart-pounding and hilarious moments.
Here's the full list of songs featured in Ocean's 8. Get to playlist-making, fans!
"Petit Fleur," Chris Barber's Jazz Band
"Cold Comfort Lane," Holy Moly & The Crackers
"Me & Mr. Jones," Amy Winehouse
"Superfly," Curtis Mayfield
"These Boots Are Made For Walking," Nick West
"E.V.A.," Andy Badale, Marie Perreault, and Jean Jacques Perrey
"Lara's Theme," James Last Band
"Masks Rappelling Down," John Murphy
"Parce que tu crois," Charles Aznavour
"Fugue In D Minor," Johann Sebastian Bach
"Gold On The Ceiling," The Black Keys
"(How Much Is) That Doggie In The Window," Patti Page
"Hot Sand," Anubian Lights
"Bossy (ft. Too $hort)," Kelis
"Action Line," Dorothy Ashby
"Love Is All Around," Sammy Davis, Jr.
"Hypnotize," The Notorious B.I.G.
"You And Only You," Eamon
"Best Friend (ft. NERVO, The Knocks, Alisa Ueno)," Sofi Tukker
From the very first day Ocean's 8 was announced, music has been hugely important, so it's not shocking that the full list of songs is on point. In December 2017, Warner Bros. released the first trailer for the movie, and it featured a poppy version of Nancy Sinatra's "These Boots Are Made For Walkin'," a particularly apt choice for a movie about a female-driven heist. The second trailer, released in April, features additional footage of the heist planning set to a cover of "You're No Good" by Linda Ronstadt. Sure, you could say that the song choice may be hitting fans a little hard over the head, but I think it's perfect.
No matter whether you're feeling something instrumental or something a little more lyrical, the Ocean's 8 soundtrack — official or unofficial — includes something right for you. Trust me, no one is going to fault you for listening to this playlist on repeat all summer long.