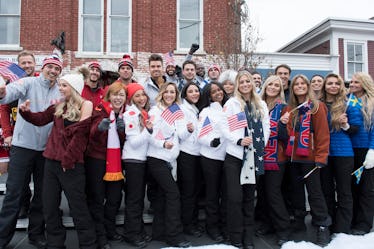 There's A New 'Bachelor Winter Games' Promo & There's No Shortage Of Drama & Tears
While the greater population is celebrating the official kickoff to the 2018 Winter Olympics this week, members of Bachelor Nation have their calendars marked for next week's premiere of The Bachelor Winter Games. With just over a week to go until its debut, we're so close to finally getting answers on how the competition will run and whether the contestants will face major cultural differences when pursuing a foreign castmate. The new Bachelor Winter Games promo promises plenty of juicy drama as this new chapter of Bachelor history begins, and I can't wait to see more.
Released exclusively by Entertainment Weekly, the new trailer shows some cultural roadblocks as early as the show's opening parade. Japanese contestant Yuki Kimura, who we already know made quite the impression on everybody, is seen telling Clare Crawley that she doesn't know English. Clare, bless her heart, looks a little frazzled about Yuki's admission. At this point, it's unclear if any other contestants have as severe of a language barrier as Yuki, but hopefully her weak English skills don't leave her too out of the loop.
Also seen in the trailer are contestants in competition uniforms with their own country's flag stitched on the material. Seeing as everyone is competing for dates, I feel like they may be participating individually in games, which definitely notches up the pressure for any players who aren't too athletic.
Of course, no Bachelor spinoff promo is complete without Ashley I. crying. Whose emotions is the franchise going to depend on when Ashley finds love and has settled down?
The theme of this promo boasts the universality of crying, as Ashley isn't the only who lets the high-stakes atmosphere get to her. Our girl Yuki is seen weeping, as is Clare and other briefly flashed faces, although Ashley does get her own moment of once again asking why she's never the chosen one in love. Ash, I get you.
Then there's the trailer's glimpses of the romantic, over-the-top dates we all tune in for. I'm not a beach person, so the concept of Bachelor in Paradise and essentially living on the beach has always grossed me out. Give me fireworks on a mountain or a snowy picnic any day, even if it means competing in potentially dangerous winter sports. Truly, who is going to feel attractive when you've been at the hot and sticky beach all day?
The Winter Games promo also dropped hints about which contestants will be hooking up with each other. This looks like essentially confirmed couple Dean Unglert and Lesley Murphy getting cozy. After Dean's unflattering Paradise drama, I hope he experiences something similar to last season's Derek and Taylor and matches with Lesley from the very beginning.
This guy definitely resembles country heartthrob Luke Pell, who won over everyone's hearts on JoJo Fletcher's Bachelorette season. Does he click with one of the foreign ladies?
As for the best news of my day: It seems that even Bibiana Julian gets some love! Yes, Bibi, yes!
With so many love connections seemingly having formed on set, Ashley provided some insight last week into her meltdown seen in the show's first trailer, telling PEOPLE:
The [scene where I'm crying in the promo] was at the end of the first 24 hours there, and it's exhausting. It's a whole bunch of scenarios unfolding in front of my face — I'm seeing my guy friends go on dates and I'm seeing another guy that I may have interest in having interest in another girl. So it's just like, a culmination of emotions!
As much as I'm rooting for this stint in Bachelor Nation to help Ashley find a guy, romantic drama is inevitable in this atmosphere. Throw athletic games into the mix, and you're likely to end up with cutthroat people desperate for some attention. Hopefully Ashley and any quieter personalities aren't lost in the mix.
The Bachelor Winter Games premieres on Tuesday, Feb. 13, at 8 p.m. ET on ABC.