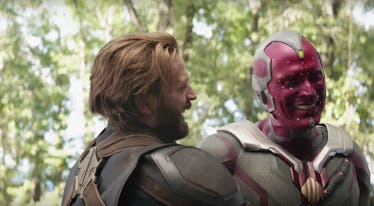 The New 'Avengers: Infinity War' Gag Reel Is So Funny You'll Forget Everyone Is Dead
Marvel
Avengers: Infinity War was definitely not the most heartwarming movie in the world, to put it lightly. While Marvel is oftentimes characterized for injecting humor into its movies, the studio got serious for its latest team-up as heroes from across the galaxy faced a scarier villain than ever before. But behind the scenes, the actors were goofier than ever. And you can check out the new Avengers: Infinity War gag reel to actually get some laughs from the movie that probably seriously messed you up.
Marvel just released the Avengers: Infinity War DVD and Blu-ray discs, both of which include a ton of bonus content like interviews with the directors and featurettes about key decisions in the movie. But one of the most fun features on the new DVD set is the gag reel, which adds a rare bit of levity and humor to Infinity War. Thankfully, Marvel was kind enough to upload two clips from the gag reel on YouTube so that even fans who have not purchased the DVD or Blu-ray can laugh along as our favorite superheroes break out of character in the funniest ways.
The first clip from the gag reel was posted over the weekend, and it features Scarlett Johansson struggling with a hairy situation, Chris Hemsworth failing to nail a jump, and Mark Ruffalo cracking himself up. Check it out below:
And that is not all. Marvel also posted a second clip from the Avengers: Infinity War gag reel more recently, which gives fans an even better look at the behind-the-scenes antics of the actors. The newer clip highlights a very disruptive Wakandan goat, an epic superhero dance party, and Paul Bettany's inability to keep a straight face while "over-acting."
Of course, these silly clips are even funnier since they provide some giggles in the midst of filming a pretty depressing movie. By now, everyone on the planet knows that Avengers: Infinity War ended with Thanos collecting all six Infinity Stones and snapping his fingers to destroy half of all life on Earth... including half of the Avengers.
The shocking ending feels more like a cliffhanger than anything else, especially since next summer's untitled Avengers 4 will deal with the remaining heroes fighting against Thanos yet again and the movie was previously billed as Infinity War: Part 2. Also, most fans are pretty positive that the heroes that disintegrated at the end of Infinity War will come back in Avengers 4, since Marvel has sequels for Guardians of the Galaxy and Spider-Man already in the works, and will likely greenlight sequels for Black Panther and Dr. Strange as well. This has lead to a ton of theories about how Avengers 4 will bring the disappeared heroes back to life: Time travel to before the Thanos snap? Could they actually trapped in the Soul Stone? Will Ant-Man's quantum realm be the key?
There are too many possible theories to know what will really happen, so fans are just going to have to wait until Avengers 4 hits theaters on May 3, 2019 to see how it unfolds. Until then, Avengers: Infinity War is now available on DVD and Blu-ray everywhere.