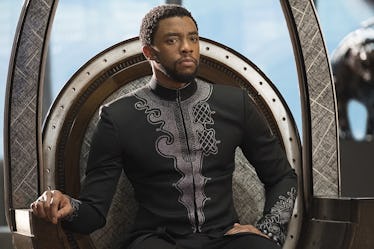 Here Are The Chances Of Black Panther Actually Returning After 'Infinity War'
Disney/Marvel Studios
Few characters in the Marvel Cinematic Universe are as exciting as Chadwick Boseman's Black Panther. T'Challa first came onto the scene in Captain America: Civil War, and ever since then, the Black Panther has had a massive impact on the MCU (and Marvel's pocketbook). I'm not a huge Marvel fan, but I'll gladly stick around as long as Boseman's character is still in the game. So naturally, I'm curious: How long is Chadwick Boseman's Marvel contract? Send your blessings to Wakanda, because the chances that Black Panther will return after Avengers: Infinity War are pretty high. Warning: Spoilers ahead for Avengers: Infinity War!
According to Den of Geek, Boseman likely signed a five-movie deal with Marvel. So far, he's appeared in Captain America: Civil War, the standalone Black Panther movie, and Avengers: Infinity War, and he's slated to appear in the still-untitled Avengers 4 (aka the Infinity War sequel). This means that Boseman can appear in one additional film in the post-Avengers 4 landscape, otherwise known as the highly-anticipated Phase Four. Hopefully, Marvel understands that Boseman is a total gem of an actor (and a shirtless dude) who deserves to stay in the MCU for much longer than five movies and will take steps to extend his contract far into the next phase.
If Marvel doesn't extend Boseman's contract, it's likely that his last film with the franchise would be a Black Panther sequel. Who wouldn't want to see T'Challa and Shuri back in action protecting vibranium? Marvel has yet to officially announce a sequel to the massive hit, but the studio's president Kevin Feige recently told Collider that they're currently discussing the film with director Ryan Coogler:
We definitely want Ryan to come back and that's actively being worked out right now. When will it be? A lot of it will be when Ryan wants to and not rushing anything, but I think we have an idea of when it will be.
Boseman's Black Panther is definitely appearing in Avengers 4, but the extent of his role is a little unclear. At the end of Avengers: Infinity War, Thanos throws T'Challa to the ground, and the hero seems to be lying there lifeless. But suddenly, T'Challa vanishes in the Snap, Thanos' action that wipes out half of humanity. Screenwriters Christopher Markus and Stephen McFeely told Buzzfeed that T'Challa's death and the deaths of many of his fellow heroes are real, so it's likely that any appearance he makes in Avengers 4 will be flashback or alternate reality scenes. Many of Black Panther's friends will also appear in flashback scenes: Tom Hiddleston (Loki), Chris Hemsworth (Thor) and Robert Downey Jr. (Iron Man) have all been spotted on the Avengers 4 set in throwback uniforms, suggesting that at least part of the 2019 film takes place in the past.
If you're still mourning the loss of Black Panther after Avengers: Infinity War, you're not alone. Millions of Marvel fans were awestruck that the studio would kill off a major character right after fans fell in love with him, but McFeely insisted that the decision was made long before Black Panther became a hit:
First of all, we would do it all over again. But remember, when we're writing [Infinity War], and even shooting, there is no Black Panther movie. We don't know it's going to be so good, so effective, so resonant. And we had to treat all these characters the same. People who leave us [in Infinity War] are the leads of their own franchises. And Black Panther's no different.
I know that Black Panther is no different than Hulk or Spider-Man, but the loss still stings. And according to Markus, this is exactly how the writers wanted fans to feel:
We wanted that thing that happens at the end of that movie to have as much impact as possible. If you're very carefully getting rid of your supporting cast, then it does seem like you're pulling your punch.
Ugh, why must everything in the world be awful all the time? Now I'll have to wait a full year to see Boseman shine again as Black Panther, and honestly, I don't know if I'll make it.
The still-untitled Avengers 4 premieres in theaters on May 3, 2019.