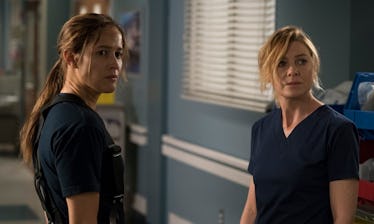 We Finally Know The Name Of The 'Grey's Anatomy' Spinoff, & We're Thrilled
ABC/MITCH HAASETH
Shondaland audiences rejoice! Since we found out in May 2017 that the acclaimed medical drama would be getting its own spinoff, fans have been eagerly awaiting more information to be released. Well thankfully Shonda has answered our prayers, because the Grey's Anatomy spinoff finally has a name.
The name of the spinoff is Station 19, which was revealed via social media on Jan. 25 and officially has its own Twitter account already. The series will follow past Grey's Anatomy character Ben Warren, played by Jason George, who steps away from his role at Grey Sloan Memorial Hospital in order to pursue a career as a firefighter. Ironically, the setting of Station 19 will take place only three blocks away from Grey Sloan Memorial Hospital. Jaina Lee Ortiz, who starred in Fox's now cancelled drama series Rosewood, will star alongside George as Andy Herrera to fill as a Meredith Grey-like character, but let's be honest who can really be Meredith Grey? Actors Jay Hayden, Barrett Doss, Okieriete Onaodowan, Alberto Frezza, Danielle Savre, Grey Damon, and Miguel Sandoval will also star in the upcoming series.
The series is set to premiere Thursday, March 22 at 9 p.m ET on ABC. Consider our Thursdays already booked.
Though the time it took for creators and producers of Station 19 to land on a title took longer than expected, George told E! that he didn't have a problem with the delay, since the long-awaited announcement made fans even more eager for the television series.
Speaking from personal experience, he's completely right.
George said,
Right now everybody just refers to us as the Grey's Anatomy spinoff, which is perfect because it helps remind everybody that we live in the same universe as Grey's Anatomy. And I'm a fan of the show, as well as having been on it, so I'm happy about that.
Heaven is a place on earth and apparently that place is apparently Seattle, Washington.
A ton of questions have been raised about what this career shift will mean for Warren. Many fans question the future of his relationship with Bailey as well as how his infamous fear of fire will affect his life as a firefighter. Rest assured fans, once the announcement of the spinoff was released to the public, George sat down with Entertainment Weekly to share his thoughts on Ben Warren's future.
He said,
It feels like Ben's perpetually starting over, but the cool part is that's one of the things I love about Ben, because he's excited to pursue new things and go up to new challenges. This was a guy deathly afraid of fire, and now he's going after it for a living. That says a lot about him as a person.
As long as it involves Ben Warren in a firefighter uniform, I'm in.
Despite the wide-spread excitement surrounding the series, this isn't the first Shonda spin-off of Grey's Anatomy. ABC series Private Practice followed Addison Montgomery, played by Kate Walsh, who moved to Los Angeles to pursue a medical private practice. The series ran for six seasons before calling it quits.
Entertainment Weekly asked George about his thoughts on how closely the spinoff will relate to Grey's Anatomy. He said,
There's so much that's familiar to Grey's fans, but when Ben is in the OR, he needs his team and friends that are his extended family to back him up so he can save this person's life, but out in the field as a firefighter, he needs his team to save his life or he needs to be there to save their lives. They're backing each other up as well as saving other people's lives. You screw up, you don't lose somebody that you met an hour ago, you screw up, you lose your best friend, your brother, your sister, and that's an extra level that hasn't been introduced in the Grey's universe yet.
No matter what the career field, Shonda Rhimes will never disappoint. Here's to another binge-worthy television show. If you need me, I'll be on the couch in front of the TV.