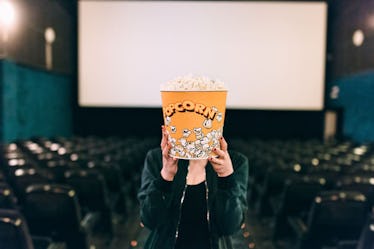 Each Zodiac Sign Has A Classic Movie That Goes With It & Here's Yours
For the next few months, summertime is sending vibrant energy straight into your soul. It's a season for enriching the mind, delving deep into culture, and enjoying the finer things in life. What better way to celebrate than to pour yourself a glass of wine and wile away the hot summer nights by watching a series of classic films? Personally, I know how easy it is to get sucked into mindless television, social media scrolling, and a whole lot of nothing. But I also know that when I make an effort to engage with some real art, I always walk away feeling transformed. If you're wondering which creative masterpiece was destined for you, look no further than the movie that goes with your zodiac sign.
The following films were paired with each zodiac sign by Cabaret Cinema Series: Dreams & Prophecy, a curation of events hosted at the Rubin Museum of Art in New York City. If you happen to be in the area this summer, why not make a date out of it and view these films on the big screen? After all, it's the way they were intended to be watched. The first film will play on July 6, 2018 and the last one wraps on September 28. The magic doesn't stop there either. Before each screening, Dorothea Lasky of the Twitter-renowned Astro Poets and astrologer Michael Lutin will give a celestial introductory. And if you can't make it to any screenings, fear not. The cosmos know where you are, no matter what.
Aries: The Dead Zone (1983), David Cronenberg
Fast-paced and adrenaline-rush loving Aries will love the wild ride that is The Dead Zone. After a coma-inducing car accident, Johnny Smith wakes up to find that he has somehow gained psychic powers. While dealing with the trauma of his new reality, he must also reckon with his newfound abilities that allow him to see beyond the confines of time.
Taurus: Sans Soleil (1983), Chris Marker
Sans Soleil, an experimental French film, will have all five of the human senses titillated to the liking of sensual, earth-loving Taurus. With an absence of synchronized sound, it combines music and voice-over narration to guide the viewer through a series of journeys across various locations throughout the world.
Gemini: The Shining (1980), Stanley Kubrick
The Shining, a horror film classic based on the novel by Stephen King, is the darkest possible interpretation of a Gemini's dual-sided nature. Jack Torrance and his family spend the winter in an isolated cabin. As he battles through writer's block, the ominous force in their snowed-in residence slowly drives him to homicidal madness.
Cancer: Rope (1948), Alfred Hitchcock
Moody Cancer, who harbors a secret fascination with the darkness of the human mind, will love the thrill-ride that is Rope. When two men strangle a friend of theirs to death right before a dinner party, they must spend the rest of the evening acting like nothing is wrong, even though their victim's fiancée is one of the dinner guests.
Leo: Spellbound (1945), Alfred Hitchcock
Sensational and over-the-top theatrical Leo will be fully immersed in the endless drama that is Spellbound. When Dr. Anthony Edwardes begins his new position at a mental hospital, it is soon revealed that he is not Dr. Anthony Edwardes. The impostor thinks he may have killed the real doctor, but due to amnesia, he can't remember what actually happened.
Virgo: The Magus (1968), Guy Green
Organized and put-together Virgo will feel their hairs standing on end watching the slow downward spiral of The Magus. When a professor moves to a remote Greek island, he encounters a mysterious man he becomes intrigued with. However, after their meeting, the professor's life slowly begins to unravel, taking the viewer through an unsettling story.
Libra: Wild Strawberries (1957), Ingmar Bergman
Balanced and beautiful Libra will feel all the feels watching the Swedish film Wild Strawberries. Seventy-eight year old Dr. Isak Borg, a retired doctor with a cold disposition, travels through rural towns until he reaches his destination, where he'll accept an honorary degree. Along the way, he meets hitchhikers who resemble people from his past, making him nostalgic for old days.
Scorpio: Don't Look Now (1973), Nicolas Roeg
Endlessly fascinated by the dark and gloomy undertones of storytelling, Don't Look Now will have a Scorpio's complete and undivided attention. As a couple grieves over their dead daughter, they meet two sisters who claim to be communicating with her spirit. The father isn't convinced — that is, until he himself sees his daughter running through the streets.
Sagittarius: Sunset Boulevard (1950), Billy Wilder
With an unstoppable desire for adventure and glamour, a Sagittarius will be fully engaged by Sunset Boulevard. When an aging silent film star attempts a comeback at fame by hiring a screenwriter to create for her the perfect role, their relationship soon descends into toxic madness. Eventually, the chaos between them becomes too much to bear.
Capricorn: Black Moon (1975), Louis Malle
Black Moon, a film that represents the avant-garde movement to perfection, will thrill driven and boundary-defining Capricorn. Taking place in a future society where women and men are at war, a young girl flees to a countryside estate to escape the mayhem. However, the bizarre story is only just beginning.
Aquarius: The Cabinet Of Dr. Caligari (1920), Robert Wiene
Eccentric and ceaselessly unique Aquarius will have all their bizarre fantasies realized through the silent film The Cabinet Of Dr. Caligari. When two men visit a carnival, a hypnotized somnambulist who claims an ability to see into the future successfully predicts one of their deaths. A race to find out whether the somnambulist or the man controlling him is at fault then begins.
Pisces: On the Beach (1959), Stanley Kramer
Dreamy, romantic, and visionary Pisces will adore the impossible love story that is On the Beach. Taking place after atomic war nearly destroys the entire world, an American submarine mourns the loss of his wife and children. As he takes a job in Australia, the only place that survives the damage, a free-spirited woman begins falling in love with him.