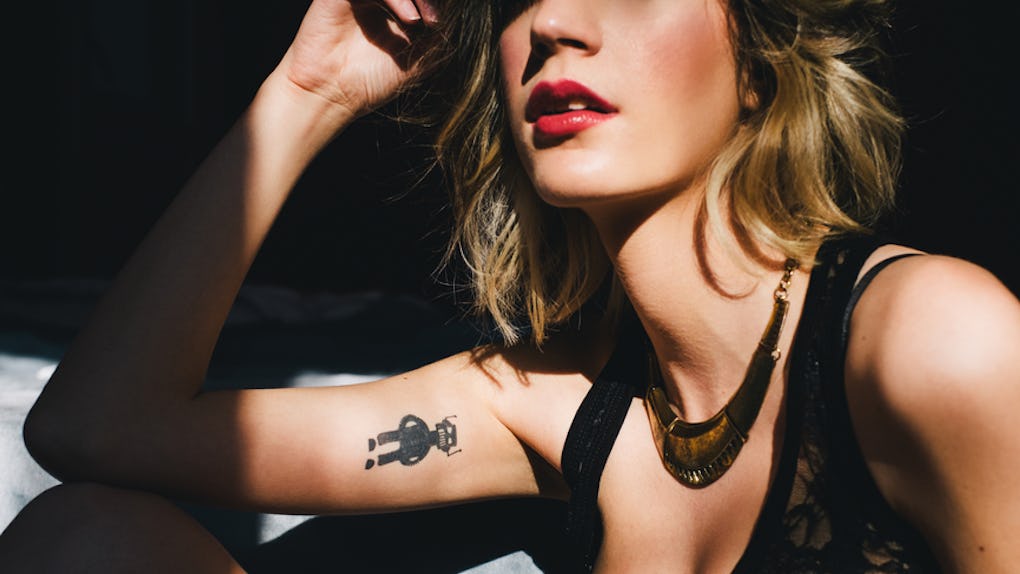 Marija Savic/Stocksy
The Most Sexually Curious Signs In The Zodiac Might Surprise You, So Prepare To Get Kinky
Haven't we all rushed home post-first date to research our zodiac compatibility with someone who had us sprung? Well, for those of us who believe astrology is too legit to quit, I think it's safe to say that we're always wondering what the stars have to say about the sexual chemistry between one sign and another. But, have you ever wondered if astrology could shed some light on the most sexually curious signs in the zodiac? As it turns out, it most certainly can. And while I'm sure most of us agree that astrology can be a freakishly accurate (and super fun) roadmap, the jury is still out on if it's the end all and be all when it comes to understanding our similarities and differences. But hey, it's a start!
So, if you're interested in venturing down some roads less traveled, which of the 12 potential companions would be your best bet? On the quest to expand your celestial knowledge, Elite Daily spoke with healthy habits expert and astrologist Linda Furiate, whose work focuses specifically on tackling "emotional behaviors" as well as "self-limiting beliefs." According to Furiate, the most sexually curious signs might, in fact, surprise you.
Scorpio (Oct. 23 To Nov. 21)
It probably comes as no surprise that the sensual and mysterious Scorpios often find themselves in all kinds of sexual predicaments that aren't for the faint of heart. According to Furiate, there are more than a few reasons why this water sign has a reputation for being one of the most passionate signs of them all, and most of these signs exemplify the fluid qualities characteristic of water signs.
"The desire of Scorpio is to physically merge with another to feel a sense of completeness," Furiate tells Elite Daily.
But if you're wondering what sets Scorpio apart from other water signs that makes them so particularly receptive to experimentation, the fact that they are also ruled by assertive Mars also adds some oomph to the mix.
"Mars is all about our sexual energy and how we may exert ourselves," says Furiate. "It is innate or inborn in Scorpio to use its magnetic sexual energy to lure another into its energy field."
And if you're thinking up an elaborate plan to seduce a Scorpio, there's a pretty good chance that they will beat you to the punch as "typically Scorpios will make all the first moves," notes Furiate.
Taurus (April 20 To May 20)
While Scorpios may get the obvious rep for being sensual, the earthy and grounded Taurus certainly shouldn't be overlooked as a curious partner between the sheets.
Furiate attributes this to their deep-seated craving for physical touch and an intrinsic connection to the sexual potential of their bodies.
Got a Taurus in mind that you're looking to seduce? Consider some playful and flirtatious (non-creepy, of course) touching — for example, a light knee graze when telling a story to test the waters, or a well-timed shoulder squeeze.
"You may also suggest sharing time together while sipping a glass of expensive wine — Taurus loves to indulge in the richness of life," says Furiate.
If things take a sensual turn, then chances are they will also enjoy light kisses and caresses to the neck, notes Furiate.
Leo (July 23 To Aug. 22)
And let's not forget about feisty Leo — the fire sign with a reputation for bravery and honor. These fun-loving cats like nothing more than to be adored and fawned over.
So where does their sexual curiosity come into play?
"To Leo, sex should be a playful act and not to be taken too seriously," and "they love romance," says Furiate.
Their flexibility and carefree approach to intimacy are super useful if experimenting with something new is what you're after.
"Oftentimes, all you need to do to drop a hint to a Leo that you are interested in them, is to send a wink or blow them a kiss from across the room," explains Furiate. "Leo loves the attention and is typically quite approachable."
There ya have it. And while this by no means indicates that other zodiac signs aren't v curious about uncharted waters, these three signs are probably a good bet. If you're still feeling stumped, once you've fostered an intimate relationship, bringing up something you'd like to try should do the trick.
Check out the entire Gen Why series and other videos on Facebook and the Bustle app across Apple TV, Roku, and Amazon Fire TV.
Check out the "Best of Elite Daily" stream in the Bustle App for more stories just like this!