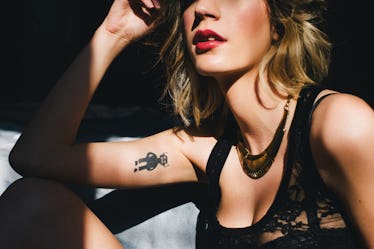 These 3 Signs Are The Most Sexually Curious In The Zodiac, So Prepare To Get Kinky
Haven't we all rushed home post-first date to research our zodiac compatibility with someone who had us sprung? Well, for those of us who believe astrology is too legit to quit, I think it's safe to say that we're always wondering what the stars have to say about the sexual chemistry between one sign and another. But, have you ever wondered if astrology could shed some light on the most sexually curious signs in the zodiac? As it turns out, it most certainly can. And while I'm sure most of us agree that astrology can be a freakishly accurate (and super fun) roadmap, the jury is still out on if it's the end all and be all when it comes to understanding our similarities and differences. But hey, it's a start!
So, if you're interested in venturing down some roads less traveled, which of the 12 potential companions would be your best bet? On the quest to expand your celestial knowledge, Elite Daily spoke with healthy habits expert and astrologist Linda Furiate, whose work focuses specifically on tackling "emotional behaviors" as well as "self-limiting beliefs." According to Furiate, the most sexually curious signs might, in fact, surprise you.