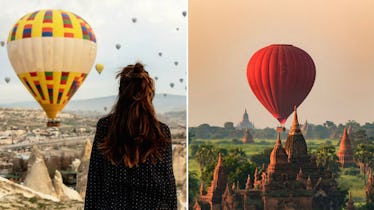 Been There, Posted That: These Are The New Insta-Worthy Hotspots For 2018
Planning your next big vacation is one of the best ways to get you through an incredibly stressful work week. Lunch breaks spent envisioning those picture-perfect beaches, souks, balconies, and brunches will not only inspire you, but give you a positive channel to focus your wandering energy. Instead of setting your sights on the world's most Instagrammed places of 2017, consider many other cool spots that aren't constantly popping up on your feed. These under the radar destinations are just waiting for you, in that perfect outfit, to come and capture the moment.
2017 was brimming with impressive travel photos, with plenty of inspiration all over Instagram to get your jet-setting wheels in motion. So, it's no surprise that this social media platform (along with all of the travel bloggers you follow) will likely play a major role in deciding where to book your next getaway. Travel is so easily accessible through technology, and it's essential to stay on top of the hottest trends, and up-and-coming destinations.
I created a list of the top travel destinations from 2017 and their off-the-radar alternatives for 2018. Thus, insuring you get the most enviable and original snaps on your next slaycation. Now, it's time to get packing!