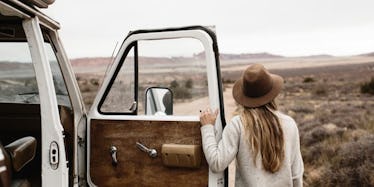 10 Incredible Southwest Destinations That Will Bring Your Instagram To The Next Level
With cactus-lined roads and unearthly rock formations, the Southwest U.S. is a world of its own. Nevada, Arizona and Utah are home to major bucket list attractions like the Grand Canyon, Zion National Park and good ol' Las Vegas, but let's be real. Millions of yearly travelers don't visit the Southwest just for the experience – they visit for the photographs.
Or, more accurately, the Instagrams.
If you want to show your friends how amazing your life is, er, I mean, fully embrace and appreciate this beautiful world (don't worry – the Insta-vanity is our little secret), here are 10 must-visit spots in the Southwest. All are accessible by car, some require mild to strenuous hiking after said car is parked, but either way – it's worth it for the 'gram, am I right?
Nevada
1. Seven Magic Mountains
Created by Swiss artist Udo Rondinone, this public art installation off I-15 South offers a striking contrast between seven 30-foot colorful boulders and an otherwise drab desert.
This vibrant attraction is free to visit, and travelers can get up close and personal with the rocks (yes – that means you can touch them, pose with them, peek out from behind them – the options are endless!). If you're interested in visiting, get there soon – the Seven Magic Mountains display is only open through 2018.
2. "Welcome to Fabulous Las Vegas" Sign
Nothing screams "I'm going to have a fabulous trip!" like a photo in front of the iconic "Welcome to Fabulous Las Vegas" sign. Located at 5200 South Las Vegas Blvd. (just south of Mandalay Bay), the sign has a 12-car parking lot and is open 24 hours a day.
3. Rhyolite Ghost Town
This old mining town held promises of prosperity – the population reached 10,000 at its peak – but today, it stands as a haunting reminder of gold rush days long gone. Several walls from the bank and jail are still standing; the train depot and bottle house remain fully erect. Even better? Horses, donkeys and rabbits are often seen roaming wild through this area.
Arizona
4. Lower Antelope Canyon
If you don't see it for yourself, it's hard to believe Lower Antelope Canyon is a real place. An underground pathway carved out from rushing water, Lower Antelope Canyon is a dusty golden maze, sprinkled with sun beams, step ladders and alien-like rock formations.
Visitors are only allowed to access Lower Antelope Canyon with hired tour guides (one-hour tours run for $25), and be prepared – it can get pretty crowded in the summer. Just down the street is Upper Antelope Canyon, but this one is much more accessible and therefore draws even larger crowds.
5. Horseshoe Bend
At an overlook four miles outside Page, Arizona, travelers can watch the Colorado River meander around the popular Horseshoe Bend. The overlook itself consists of rocks and boulders – no viewing deck – and the dusty path to the top is far from easy in the summer heat. But, the mile hike will leave you ripe and ready to sit down and take in the view – as long as your travel partner is prepared to photograph you doing so, of course.
6. Grand Canyon – South Kaibab Trail
It's easy to find a good view in the Grand Canyon — some 5.9 million people visited in 2016 alone for that scenery – but if you want the Grand Canyon experience without all the people, you have to hike down. And unfortunately, back up.
The National Park Service describes South Kaibab Trail as having "the best views for a relatively short hike." It's filled with panoramic lookout points, steep switchbacks and the canyon's quintessential mules (which means, of course, mule poop). The hike down is easier than the hike up, so start at sunrise to avoid severe heat on the return hike.
7. The Wave
While Instagrammers in The Wave (a hike-able, mesmerizing sandstone formation) appear peaceful and care-free, they weren't that way in the months prior. Oh no. They were anxiously waiting to see if they'd be granted the ever-elusive opportunity to visit The Wave.
Entrance to The Wave in Coyote Buttes North is decided by a strict lottery that allows only 20 visitors in per day. To make matters worse, only 10 permits are granted online, and the other 10 are for day-of walk-ups. While chances are slim – only 7,000 people get to see The Wave each year – it's still worth attempting, because Instagrams taken in The Wave are some of the best in the world.
Utah
8. Zion National Park – Angels Landing
The iconic 229-square-mile Zion National Park is known for lush green, canyon-filled landscapes – think "Jurassic Park" forests mixed with the Grand Canyon's cliffs. While Zion National Park has over 50 hiking routes, Angels Landing trail offers some of the most breathtaking views – and the most exhilarating experiences.
The five-mile hike itself winds up through steep switchbacks and sheer cliffs; sneeze at the wrong point and you could very well tumble down. But the risk is worth the reward, as the Angels Landing adventure puts you smack dab in the middle of a Jon Krakauer tale.
9. Monument Valley
Grab your skateboards (and if you don't skateboard, try a little contemplative stroll) – Monument Valley's U.S. Route 163 is an iconic - often Instagrammed - road. Endless empty miles set to a backdrop of burnt red peaks are filled with skateboarders, retro vans, hippies twirling and about any other symbol of "freedom" you can imagine. While Monument Valley itself offers plenty of hiking and sightseeing, this stretch of road is a must for Instagram enthusiasts.
10. Bryce Canyon
With fields of unusual rock pillars (known as hoodos) and trees sprouting from rugged cliffs, Bryce Canyon is unlike any place in the world. Every year, 1.5 million travelers visit for hiking, photography, camping and horseback riding each year.
One of Bryce Canyon's most popular Instagram spots – Sunrise Point – is also an eerie reminder of today's shifting climate. According to the National Park Service, geologists estimate "the rim of the canyon is eroding at a rate of two to four feet every century and that in approximately three million years, Bryce Canyon will be gone forever." While Bryce Canyon does leave visitors awestruck, it also presents a strong reminder to take care of this beautiful playground Mother Nature created for us.
If you road trip through the Southwest, you'll have trouble finding a spot that's not Instagram-worthy, but these 10 spots provide a great place to start. Pack portable chargers, maps and GPS units, because while the Southwest is overflowing with photo ops, desert cell reception is spotty at best.