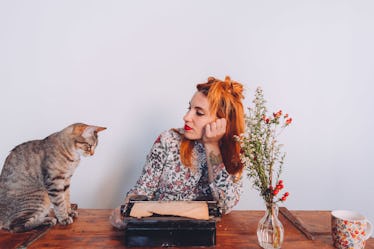 Here's Every Question You've Ever Had About Your Cat, Answered By The Experts
When it comes to cats and dogs, I'm hesitant to generalize, as each furry cutie is totally unique. But in broad terms, dogs tend to be much simpler to figure out than cats. In my experience with pups, they pretty much always want to eat, cuddle, or play. Forming a relationship with a cat, on the other hand, usually means paying closer attention to their mood at any given moment, because these little guys often want some personal space (#relatable). If you've ever googled some of the most common questions about cats, like why they're so hard to get close to sometimes, you're definitely not alone.
The cat food brand Meow Mix recently partnered with Google Trends to reveal some of the most commonly searched questions that cat parents have about their precious fur babies, and lucky for you, the brand has shared some of the data with Elite Daily via email. In addition to searches for common questions like why cats meow, pet owners are googling a bunch of other queries that, TBH, I've always wondered about, too.
What's more, I reached out to a few veterinarian experts, who were able to answer some of the most commonly searched questions about cats, so you don't have to stay in the dark about why exactly your little guy is obsessed with laser pointers, or whether you can feed your kitten a little bit of pumpkin pie this Thanksgiving. Here's what they had to say.