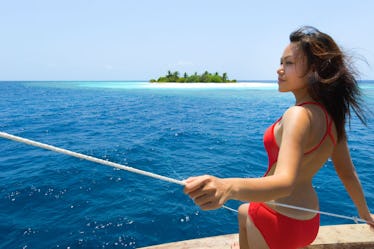 The 6 Most Beautiful Places To Spend NYE 2018, So You Can Celebrate In Style
Can you believe that New Year's Eve is almost here, yet again? It feels like 2018 flew by, and 2019 is already right around the corner. New Year's Eve is always a celebration to remember, so you should consider heading someplace new to make ringing in the new year that much more special. I've rounded up some of the most beautiful places to spend New Year's Eve 2018 to get you started.
You don't have to go out to a club or bar on New Year's Eve in order to have a great time. Sometimes, the most memorable celebrations are the ones that are a little more low-key, in a scenic setting that makes for the perfect, relaxing getaway. This list includes both places to dance the night away, and spots where you can just kick back and chill.
Wherever you decide to celebrate this New Year's Eve, you'll be doing it in serious style — and you're sure to snap the most epic pictures for the 'Gram. Before you head out, though, take some time to reflect on what 2018 has meant to you. It's been a rollercoaster of growth for me personally, and I can't wait to see what 2019 has in store.