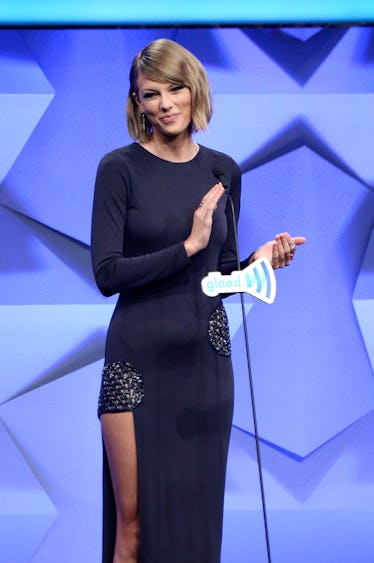 Taylor Swift Shares Heartbreaking Poem "Why She Disappeared" & It'll Make You Sob
Frazer Harrison/Getty Images Entertainment/Getty Images
Taylor Swift is back and better than ever with her new album, Reputation, but many have wondered why she's been out of the spotlight for so long. The meaning of "Why She Disappeared," a poem Swift wrote as part of the special magazine fans got when they purchased Reputation from Target, explains all.
You're going to want to have the tissues handy for this.
"Why She Disappeared"
When she fell, she fell apart
Cracked her bones on the pavement she once decorated
as a child with sidewalk chalk
When she crashed, her clothes disintegrated and blew away
with the winds that took all of her fair-weather friends
When she looked around, her skin was spattered with ink
forming the words of a thousand voices,
Echoes she heard even in her sleep:
"Whatever you say, it is not right."
"Whatever you do, it is not enough."
"Your kindness is fake."
"Your pain is manipulative."
When she lay there on the ground,
She dreamed of time machines and revenge
and a love that was really something,
Not just the idea of something
Swift clearly tells the story of falling, losing the "fair-weather friends," and hearing the voices of those haters, the ones you can never please. The pop star "dreamed of time machines and revenge" in hopes of turning back time for a do-over or getting back at those who knocked her down, as well as real love.
She continued:
When she finally rose, she rose slowly
Avoiding old haunts and sidestepping shiny pennies
Wary of phone calls and promises,
Charmers, dandies and get-love-quick-schemes
When she stood, she stood with a desolate knowingness
Waded out into the dark, wild ocean up to her neck
Bathed in her brokenness
Said a prayer of gratitude for each chink in the armor
she never knew she needed
Standing broad-shouldered next to her
was a love that was really something,
not just the idea of something.
Swift explains how she slowly picked herself up and was cautious to come back, but took some time to sit in "her brokenness" and own "each chink in the armor." Her new love, "that was really something," Joe Alwyn, was by her side.
When she turned to go home,
She heard the echoes of new words
"May your heart remain breakable
But never by the same hand twice"
And even louder:
"without your past,
you could never have arrived —
so wondrously and brutally,
By design or some violent, exquisite happenstance
…here."
And in the death of her reputation,
She felt truly alive.
Despite the "death of her reputation," Swift returned, a bit battered from those life experiences, but stronger because of the journey. And "she felt truly alive."
Fans were understandably touched and moved by Swift's explanation for disappearing, with one person tweeting: "Taylor wrote this poem for one of her magazines and I am feeling a lot of emotions. Her writing is so beautiful and raw and personal. It really shows that she is not only a genius at songwriting but she is also a genius at writing in general.
"
Others were quite literally moved to tears by Swift's poetry:
A fan who attended the Secret Sessions recalled reading the poem and how powerful the words are, tweeting: "i remember reading 'why she disappeared' on taylors couch as i sat waiting to hug her. i got so emotional because her words connected to me,just as they always do. i felt for her in that moment and it was so powerful."
These beautiful words make me wonder if this shouldn't be a Swift song? If only it was a bonus track. Sigh.
Check out the entire Gen Why series and other videos on Facebook and the Bustle app across Apple TV, Roku, and Amazon Fire TV.