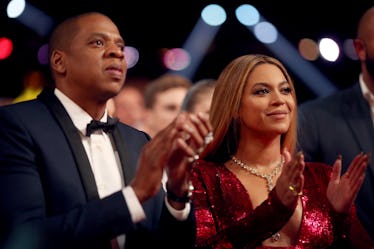 The 'Everything Is Love' Album Cover Has An Important Message, & It's So Perfect
Christopher Polk/Getty Images Entertainment/Getty Images
Leave it to Beyoncé and JAY-Z to completely throw our weekend plans in disarray. No one was expecting the two powerhouses to drop a surprise, joint album on June 16, but it actually happened. Well, the meaning of the Everything Is Love album cover is so powerful, and it'll make you love this project even more.
On June 16, Beyoncé and JAY-Z pulled a total... Beyoncé, when they dropped their latest album Everything Is Love to everyone's surprise. This is the couple's first project together, and it's a nine-track album accompanied by one visual component. The album is currently only available on streaming service Tidal, and naturally we've all been listening to the album on repeat since it dropped, and have analyzed every aspect from the lyrics to the cover art. A still of the album's only music video so far, "Apesh*t," adorns of the cover of the album, which shows Jasmine Harper picking out Nicholas "Slick" Stewart's hair in front of the Mona Lisa inside the Louvre. According to Vulture, the image represents "black intimacy and domesticity," not unlike other visuals shown throughout the music video.
Representation on behalf of African-American communities is so important, and placing an image of Black culture in the middle of a celebrated, but historically white space, is so meaningful. It's no secret that Beyoncé and JAY-Z are proud of their cultures, and their past work have shown that time and time again.
The "Apesh*t" video was directed by Ricky Saiz, who also was the brain behind Beyoncé's "Yoncé" video The entire project was shot in the Louvre, and basically symbolizes Black bodies as art forms. Shots of the museum's most famous pieces are shown throughout the video, including the Mona Lisa and Consecration of Emperor Napoleon and Coronation of Empress Josephine. Those two pieces feature historic white figures as the main subjects, but at the end of the video the art piece Portrait of a Negress is proudly shown as a climatic ending.
Beyoncé and JAY-Z's centering of Black artistry and bodies within a space like the Louvre can't be discounted. It doesn't take an art critic to realize that while walking through a museum of "classic" art, more often times than not can you count on one hand the number of people of color represented in historic artwork. I'm no art historian, nor am I a music critic, but I think it's safe to say that the Everything Is Love cover art, and "Apesh*t" music video, directly addresses the often overlooked communities in these circles, and hopes to highlight them.
I hope I'm not the only one whose heart completely stopped when news broke that Beyoncé and JAY-Z dropped a surprise album. The couple may have hinted to The New York Times in November 2017 that a joint album was in the works, but I never expected this dream would actually become a reality. According to the couple, Everything Is Love was inspired by their separate, confessional releases, Lemonade and 4:44, which they were working on prior to their joint project.
"We were using our art almost like a therapy session. And we started making music together," Jay Z told The New York Times.
This year might be a complete disaster in the political sphere, but at least this album coming out is one sliver of good news we can enjoy. Of course it's hip-hop's first family to bring a smile to our faces.
I'm still not over the roller coaster ride that was Beyoncé's Lemonade album. I can only hope that more music videos as inspiring as "Apesh*t" will be released soon, but if the Carters are involved I have no doubt that'll be the case.
I don't know about y'all, but I suddenly feel the need to book a trip to Paris, France.
More to come.