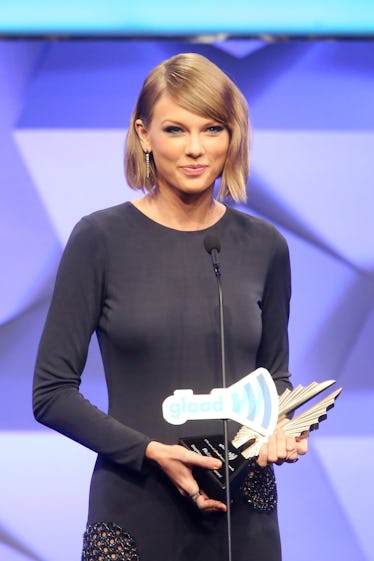 The Meaning Of Taylor Swift's "Gorgeous" Is Totally Different Than What You'd Expect
Frederick M. Brown/Getty Images Entertainment/Getty Images
Taylor Swift's new song "Gorgeous" is here and it's the bop of your dreams. It's also got people wondering what the meaning of "Gorgeous" is and who it's all about. Swift teased "Gorgeous" earlier in the day and really built up the buzz, but she didn't reveal too much about the tune.
Swift took to Instagram to post the teaser clip, which just had a baby or young child's voice saying "Gorgeous" before the synth kicked in. Yeah, it wasn't immediately clear what the song would be about, but the fan theories kicked into overdrive as everyone tried to piece together the meaning of the song.
First up, there were some comparisons drawn with Kanye West's song of the same name. Given her past feud with West, many wondered if Swift was throwing some major shade his way with her song of the same name.
Many fans pieced together a theory about the track list number for "Gorgeous" and the "LWYMMD" video lineup of old Taylors. Check out what some people came up with...
Some Swift fans had been lucky enough to hear all of "Gorgeous" at one of the singer's secret sessions for her upcoming album, Reputation. They have all held up their end of the agreement, with very little information coming from those that had the privilege of hearing the song already.
About all we got from those lucky few was a response to some of the many theories that it was Swift's voice saying "Gorgeous" in the clip.
This fan easily shot down any theories that it was a younger Taylor's voice we all heard, as she tweeted: "I can't wait for ‪#Gorgeous to be released tomorrow. It's a masterpiece even by ‪@taylorswift13's standards. & I'm not saying who the baby is!"
OK, you can't just put that out there and not reveal the identity, right?
Well, she wasn't saying, but in response to a fan who noted, "Obviously it's baby Taylor!!!!!," she confirmed, "It's not." She added, "Just wait for the credits."
When someone else noted, "It sounds like North West," she again said, "Just wait for the credits."
She later tweeted: "I will forever feel honoured knowing @taylorswift13 decided to share the true story behind #gorgeous with me. Between #Swifties forever."
Another fan did share: "I got to hear ‪#Gorgeous last night and it was AMAZING (obviously!) YOU GUYS WILL LOVE IT I PROMISE!"
She also pointed to the identity of the baby voice, noting: "GUYS I'm not sure if Taylor tells the story behind the baby voice in that Gorgeous clip you won't think it is creepy haha!"
With a report from Us Weekly that Swift's new album, according to a source, "chronicles her feuds" with Kanye West, Kim Kardashian, Katy Perry, and Calvin Harris, it's been easy assume the meaning behind the "Gorgeous" lyrics is about one of her former feuds.
Another source told Us Weekly: "She's definitely coming for the Grammys," adding that Reputation is "her most experimental work yet in terms of sound."
"Gorgeous" definitely doesn't sound like anything Swift has done before! However, the meaning isn't exactly what fans were expecting since it doesn't really address the feuds she's had in her past. In fact, it actually sounds like some sort of love song. The lyrics read:
You should take it as a compliment
That I got drunk and made fun of the way you talk
You should think about the consequence
Of your magnetic field being a little too strong
And I got a boyfriend, he's older than us
He's in the club doing I don't know what
You're so cool it makes me hate you so much
[Pre-Chorus]
Whiskey on ice, sunset and vine
You ruin my life, why not be in mine?
[Chorus]
You're so gorgeous
I can't say anything to your face
'Cause look at your face
And I'm so furious
At you for making me feel this way
But what can I say?
You're gorgeous
Clearly, this song is all about wanting someone who Taylor Swift thinks is "gorgeous," and may not be the best person for her. Hmmm, who could that be about?!
A Tumblr post commented on the meaning of "Gorgeous" and said: "JUST LETTING YOU KNOW, YOU SHOULD ALL BUCKLE UP BECAUSE GORGEOUS IS SO AMAZING AND NOTHING LIKE LWYMMD OR RFI. YOU WILL BE SHOCKED."
She added: "GORGEOUS REALLY LETS YOU KNOW WHAT THE ALBUM IS ACTUALLY LIKE. YOU GUYS WILL BE SHOCKED."
Those getting excited for Reputation's release have every reason to feel that way, as Tumblr user ofrunningfoxes, who attended a secret session, explained: "NO I AM TELLING YOU ALL THAT THIS ENTIRE ALBUM IS FIRE. EVERY SINGLE SONG IS A BOP. THIS ALBUM IS AMAZING. THERE IS NO BAD SONG. THIS ALBUM IS SEXY SHADY AND DARK. BUT IT WILL ALSO MAKE YOU HAPPY. IT TELLS A STORY. AND I AM SO EXCITED FOR THE REST OF YOU TO HEAR IT
Did you figure out the meaning of "Gorgeous" before you heard it or were you surprised? Listen to the full song below.
Check out the entire Gen Why series and other videos on Facebook and the Bustle app across Apple TV, Roku, and Amazon Fire TV.