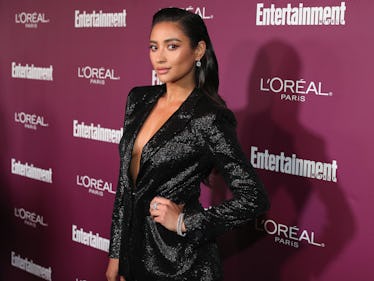 Shay Mitchell Got A New Tattoo & Her Fans Are Dying To Know What It Means
Neilson Barnard/Getty Images Entertainment/Getty Images
We all agree tattoos are hot, right? Gone are the days when they were reserved specifically for old men with long white beards who rode Harley motorcycles, and now are the days where tattoos are more available and free to everyone. That includes Pretty Little Liars actress Shay Mitchell. She recently got some mysterious new ink, leaving us all wondering what does Shay Mitchell's new tattoo mean?
First, let's go back.
After seven seasons, the show Pretty Little Liars finally came to an end. The stars of the hit series, Lucy Hale, Shay Mitchell, Ashley Benson, Troian Bellisario, Sasha Pieterse, and Janel Parrish were looking for a way to memorialize their time together, and boy-oh-boy is there just the tat for that. The girls all agreed to get the initial of their character's first names on their pointer fingers, where they make the legendary "shh" gesture in the opening sequence of the show.
Honestly, I love it so bad.
However, Mitchell needed a little extra coercing. She confessed in an interview with Refinery29 that she was afraid of the pain that would come along with a tattoo, especially on her finger and so close to the bone.
She said,
I didn't want to be a part of this at all! Not because of the permanent factor, but because it's painful. And on your finger, it's even more painful!
Still she got through it, and it was so worth it for the gram.
She said,
I mean, I ended up doing it, I just held onto everybody's hands and was sweating profusely. But, I made it.
Well, Mitchell's obviously got the ink bug now.
Teen Vogue reports that Mitchell went back for her second tattoo and fans are dying to know what it means.
Mitchell appeared on the famous celebrity tattoo artist JonBoy's Instagram, debuting a delicate series of roman numerals up her wrist. JonBoy captioned the photo "(vibes) @shaymitchell #jonboytattoo" which gives us literally nothing, and in fact, probably throws us off the scent on what it actually means.
The roman numerals are I, IV, III (1, 4, 3) and so far, no theories or guesses have really stuck. According to BRIT+CO, 143 used to be the code of "I love you" back in the day when people used pagers and AIM.
I don't know... seems like a stretch...
Still, if Mitchell's cool girl attitude in the photo is any indication, it looks like this tattoo was either less painful than her "e" for her character Emily, or she's gotten over the fear and worry that comes with getting permanently inked.
In just doing a quick scroll through JonBoy's Instagram feed, it's easy to see that dainty, delicate lettering is one of his specialties, and of course Mitchell was in good hands. He even told Glamour that his clients will often opt for his own personal handwriting rather than doing an original font.
You can also catch JonBoy's work on other millennial fan favorites like Bella Hadid, Kendall Jenner, and Hailey Baldwin.
Despite being such a professional, he's admitted to making at least one mistake, and on Jack Nicholson's daughter no less.
He told Glamour,
I messed up on Jack Nicholson's daughter, who wanted 'Don't Let Me Be Understood.' Two minutes later, she came back in bawling and said, 'I wanted it to be "Don't Let Me Be Misunderstood.' We ended up fixing it, but now I triple-check.
He had such a casual response to it, he even took a photo of the tattoo with the caption "oops...." and posted it on his Instagram.
I guess a real pro can admit when he messes up.
Luckily, no mistakes on Mitchell's mysterious tat. Just lots and lots of questions.
Check out the entire Gen Why series and other videos on Facebook and the Bustle app across Apple TV, Roku, and Amazon Fire TV.