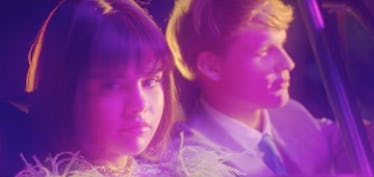 Selena Gomez's "Back To You" Music Video Proves She'll Always Love Justin Bieber
YouTube
For days, Selena Gomez has been dropping hints about her new "Back to You" video and the day for fans to see it is finally here! While Selenators everywhere have been waiting with bated breath for an official video to make its way to YouTube, they've had to make do with a 13 Reasons Why-inspired lyric video. But now, Selena Gomez's "Back to You" music video is fulfilling every fan's expectations.
Over the past couple of days, Gomez has been teasing fans with snapshots of the video (with lyrics overlayed on the image) on Instagram. And it's been driving everyone wild... and for good reason. First of all, the video is intense! And the lyrics are incredibly raw and moving.
Of course, lots of fans have theorized that Gomez is singing about her on-again-off-again boyfriend Justin Bieber. And the video does absolutely nothing to squash that possibility.
In the video for "Back to You," Gomez can be seen crushing on an actor, who doesn't exactly look like Bieber, but could certainly be a stand-in for him. He's even got some luscious locks to give him that Bieber-esque look the world is so familiar with.
Check out the video below!
Now, let's take a look back at this Bieber look-alike from Gomez's Instagram teaser posts:
I mean... that's definitely supposed to be Beiber, right? Because if it's not, then I'm super confused. And a little disappointed. There's so much about this song that makes me think of Bieber that I can't (or won't) accept that it's not about him.
Anyway, as I mentioned previously, the lyrics seem like a dead giveaway that it's about him:
I wanna hold you when I'm not supposed to / When I'm lying close to someone else / You're stuck in my head and I can't get you out of it / If I could do it all again / I know I'd go back to you
Everyone knows Gomez and Bieber have always had a hard time calling it quits for good. Plus, there's that bit in the song about "unfinished business," which definitely seems like it could be tied to Bieber:
We never got it right / Playing and replaying old conversations / Overthinking every word and I hate it / 'Cause it's not me ('cause it's not me) / And what's the point in hiding? / Everybody knows we got unfinished business / And I'll regret it if I didn't say / This isn't what it could be (isn't what it could be)
If those lyrics don't convince you, then you have to see the video. It starts off with Selena approaching her Bieber-look-alike crush at a party and asking if he wants to go off and steal a car (the dialogue is written in subtitles, like an old-school silent film). Bieber-look-alike is totally down, and things start off super romantic and high stakes as they go off and, well, steal that car.
But then, things get complicated between Gomez and her guy, as they tend to when one steals a car. They fight passionately and get sick of each other, and ultimately decide to go back to the party. But then, the whole point of the video is made clear. In a full-circle moment, Selena watches her former crush at the party and realizes she loves him all over again. She approaches him and asks him once more, "Do you want to steal a car?" And he replies, "Sure." Rinse, wash, repeat. Hmmm... Kind of like Gomez and Bieber's whirlwind relationship, huh?
Gomez actually previewed some of this on Instagram with those teaser photos she was posting just a few days ago. Here's a look at some of them:
Simpler times? Possibly.
Yikes, looks like they're not too happy here.
Pensive Selena:
Overall, this is a really solid music video. It really takes you through every emotion of the song and it's just so intriguing to watch — especially with all those Jelena parallels! Love it!