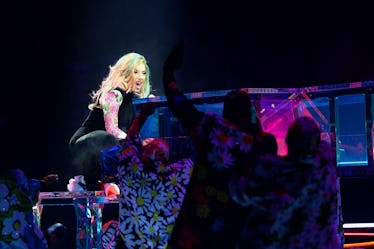 Lady Gaga Dropped Her Video For "Joanne" & It's So, So Emotional
Jason Merritt/Getty Images Entertainment/Getty Images
When I first heard about Lady Gaga's hit song "Joanne" (which is also the name of her fifth studio album), I assumed that she had written it about herself. After all, it was long ago revealed that the pop star's real name is Stefani Joanne Angelina Germanotta. But the meaning behind Lady Gaga's "Joanne" music video is actually way more deep and emotional, because it turns out the song was inspired by her late aunt.
Gaga has released a new, stripped-down, piano version of the title track — named "Joanne (Where Do You Think You're Goin')" — just a few days before her performance at the 2018 Grammy Awards. And with it, she revealed that both the track and the album were named after her late aunt Joanne Germanotta, who died at the age of 19. "Joanne was my father's sister who died at the age of 19 from the auto-immune disease Lupus," read the words on the screen prior to the start of the video. "My father was only 15 when she passed away."
So heartbreaking. Gaga tweeted out a sneak peek of the video on Jan. 24, along with a call for donations. "The Lupus Research Alliance is receiving a donation in honor of Joanne Stefani Germanotta," she wrote. "Please consider a donation to this tremendous organization."
What an amazing tribute — so beautiful and raw. Gaga's fans, of course, are loving the powerful rendition, and have taken to Twitter to show the singer their support. "Thank you for this emotional amazing piece of work," wrote one fan.
"This video is a beautiful tribute and the perfect end to an amazing era," added another Tweeter. "Thank you and love you. We'll call you #Joanne."
One fan even pointed out the video's symbolism. "The rainbow paired with you crossing the bridge is perfect," he wrote. To me, it symbolises Joanne crossing over to the other side. The scene is so beautiful and peaceful."
Pretty insightful. Here's the full version of the song so you can check it out for yourself. But you may want to grab a pack of tissues first, because stuff gets super real and if you're anything like me, it will bring tears to your eyes.
Don't say I didn't warn you.
Gaga is set to perform during the first hour of the 60th Annual Grammy Awards, which will take place at Madison Square Garden in New York City on Sunday, Jan. 28, and I really hope she choose to sing this version of "Joanne". She's also nominated for two awards that night — Best Pop Vocal Album for Joanne and Best Pop Vocal Performance for "Million Reasons."
Meanwhile, it looks like our girl scored a front row seat at the event — at least according the Grammy seating chart obtained by TMZ. The images show Gaga seated right next to Sir Elton John, diagonally in front of Miley Cyrus (who's in the second row in front of Spike Lee), and directly across the aisle from Beyonce and JAY-Z — who scored better seats than both Sting and Alicia Keys.
Other angles of chart show us that Kendrick Lamar will be in front of Rihanna...
And Sean Combs — or whatever he is calling himself these days — gets a chair in front of Cardi B and the three members of Migos.
Oh, and get this — looks like Jerry Seinfeld scored a seat in front of power couple Chrissy Teigen and John Legend. And like, how on earth did that even happen? Seinfeld doesn't even go here, you guys, so how dare he block my view of the Queen!
Still, these pics have just got me mad pumped for the ceremony Sunday night. Can't wait to see Gaga bring down the house!