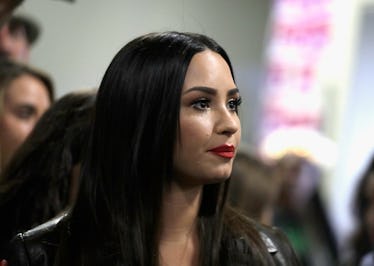 Demi Lovato Opens Up About The Lyrics To "Daddy Issues" And It's So, So Heartbreaking
Isaac Brekken/Getty Images Entertainment/Getty Images
In my opinion, Demi Lovato's newest album, Tell Me You Love Me, is her best one yet. Actually, Lovato has dropped one of the dopest albums I've heard all year. Her songs are so real and have deep personal meaning that it's hard not to fall in love with Lovato's honesty or her music. While "Ruin The Friendship" is a highly talked about track that refers to a guy we probably know (ugh, still not confirmed), Lovato has a lot of other intimate songs on the album. The meaning of Demi Lovato's "Daddy Issues" is so personal, it will break your heart.
According to AZ Lyrics, the last chorus of "Daddy Issues" goes,
Never enough
Addicted to love with the wrong one
Lucky for you, I got all these daddy issues
What can I do?
I'm going crazy when I'm with you
Forget all the therapy that I've been through
Lucky for you, I got all these daddy issues
Obviously, these lyrics are very intimate to Lovato who grew up experiencing tribulations with her father. During an interview with BBC, Lovato dove deeper into explaining the lyrics for fans. The song begins,
I call you too much
You never pick up
Except when you wanna f*ck
And I can't get enough
You're the man of my dreams
'Cause you know how to leave
But I really believe that you'd change it for me
You're unavailable (You're unavailable)
I'm insatiable
BBC called the lyrics, "You're the man of my dreams because you know how to leave" the "most cutting" of the year. Lovato explained,
When you grow up with an absent father, you have relationship issues — and sometimes you go for the type of person who feels familiar. So that lyric was about something that felt familiar.
She went on to say that painful experiences from the past can affect the present. Specifically, the way people can anticipate disappointment. She added,
Sometimes it's more comfortable to feel pain when that's all you've known in certain situations.
Lovato had a very complicated relationship with her father, Patrick Lovato. According to ET Online, Lovato had a troubled relationship with Patrick, who passed away from cancer in 2013. The singer called him "abusive" in a video on her YouTube channel, but did write a song titled "Father" on her Confident album. Lovato said about her father in 2015,
I was very conflicted when he passed, because he was abusive. He was mean, but he wanted to be a good person. And he wanted to have his family, and when my mom married my stepdad, he still had this huge heart where he said, 'I'm so glad that [he's] taking care of you and doing the job that I wish I could do.'
With such a convoluted relationship, Lovato did what she does best — wrote about it. Part of the lyrics to the power ballad are,
You did your best or did you?
Sometimes I think I hate you
I'm sorry, dad, for feelin' this
I know you were a troubled man
I know you never got the chance
To be yourself, to be your best
I hope that heaven's given you
A second chance
It's interesting to hear how Lovato's relationship with her father manifests itself from "Father" to "Daddy Issues." It's really extraordinary that Lovato can take some of the toughest parts of her life and turn them into beautiful pieces of art.
Lovato admitted that Tell Me You Love Me wasn't intended to be so personal, but "it just came out that way in the writing." Either way, I'm grateful to Lovato for sharing so much with her fans.
While all her new songs are amazing to listen and sing along to, I love learning more about the inspiration behind the lyrics. Keep slaying, Demi.
Check out the entire Gen Why series and other videos on Facebook and the Bustle app across Apple TV, Roku, and Amazon Fire TV.