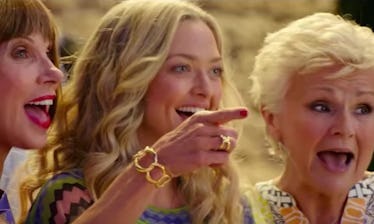 The 'Mamma Mia 2' Soundtrack Is Here & It'll Have You Dancing In Your Seat
Universal Pictures
Get ready to party like it's 1979 because the Mammia Mia 2 soundtrack has arrived and it's just as ABBA-tastic as fans would expect. Mamma Mia! Here We Go Again is set to hit theaters on July 20, but you can get a head start on listening to the updated sweet sounds of the '70s now that the songs from the film are available for everyone's listening pleasure. The soundtrack — produced and arranged by Benny Andersson — was released July 13 and is currently available to stream and purchase. It features 18 tracks, including versions of classic songs like "Waterloo," "The Name of the Game," "Knowing Me, Knowing You," and "One of Us." If you ever wanted to hear the great Cher and Andy Garcia team up to duet "Fernando," you're very much in luck.
Lily James (who plays the young version of Donna Sheridan, Meryl Streep's character from the original), Amanda Seyfried, Colin Firth, Jeremy Irvine, Christine Baranski, and more cast members all stretch their singing chops on the album. The versatile Meryl herself does a rendition of "The Day Before You Came," which will knock your platform sandals off. Um, I think I've found my new go-to karaoke song.
Mamma Mia! Here We Go Again is the sequel to 2008's mega-hit musical Mamma Mia. While the first film surrounded Sophie's (Amanda Seyfried) Greek wedding to Sky (Dominic Cooper) and her quest to figure out who her real father was among Sam (Pierce Brosnan), Harry (Colin Firth), and Bill (Stellan Skarsgaard), the follow-up picks up amidst her pregnancy. The scene is still the stunning isle of Kalokairi, Greece, although the focus is on young Donna (Lily James) as the movie flashes back to her wild times of 1979.
Lily James (Cinderella, Baby Driver) may be one of the cast's newbies, but the actress is taking on the younger version of Meryl's beloved role using plenty of inspo from the Academy Award-winning legend. She explained of her approach to the part to Harper's Bazaar:
I wanted to capture Donna's gung-ho spirit. She's so feisty and brave and uninhibited. I wanted people to believe that my Donna could grow into that woman. I also watched the film to try and sprinkle in a few gestures that felt like Meryl. She uses her hands a lot. I also took note of the way she moves her hips and her body—it's so beautiful and grounded.
Cher is also adding more star power to the already-esteemed Mamma Mia group, portraying Sophie's estranged grandma, Ruby.
"She was amazing, there was a crackle of anticipation on the set when she was coming in," Pierce Brosnan gushed about the icon in an interview with UK's This Morning.
Julie Walters, who reprises her role of Donna's longtime pal Rosie in the sequel, had her doubts about returning for more Mamma Mia when the project was announced. Thankfully, she's changed her tune. She admitted to Good Housekeeping:
I couldn't see how it could work and what they could do with us. So, my first reaction when my agent told me they were making Mamma Mia 2 was 'Oh God no, it is going to be awful.' But the script was so good. I think it is fantastic. I think it is better [than the first one].
If you can't wait to watch the new story unfold, Universal even released a lyric video for "Dancing Queen" on July 9, which might satisfy your ABBA needs for the time being. The cute clip serves up sneak peeks from the film, plus, you can sing along using the correct lyrics! Nope, the line isn't "feel the meat from the tangerine," guys.
Of course, there's also the soundtrack to keep you and your dancing shoes company while you wait for Mamma Mia! Here We Go Again to hit theaters on Friday, July 20. Wherever and you are and whenever you want, "you can dance, you can jive, having the time of your life..." I know what I'm doing this weekend.