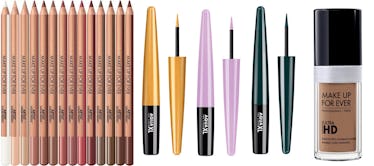 Make Up For Ever Is Having An Epic Fourth Of July Sale & Melt-Proof Makeup Awaits
Make Up For Ever
Perhaps the best thing about summertime holidays (aside from the endless rosé) is the myriad of sales on sales! If you missed out on Memorial Day Weekend sales a few weeks ago, no worries — July 4 is chock full of 'em too. One that really caught my (cat)eye: the Make Up For Ever July 4 sale.
Anyone who hoards makeup as much as I do is familiar with the pro-quality brand — but in case you've yet to experience it: the products range from foundation to setting powder to quite literally every single color of eyeshadow and eyeliner on the planet. Make Up For Ever products have served me well in daily life as well as in those times when I need some seriously pigmented products (concerts, Halloween, etc.). Plus, the product quality is stellar across the board.
That said, Make Up For Ever is not the cheapest brand in the world (for context, the cult classic Ultra HD Foundation is $43), but that makes the sale all the more thrilling!
Without further ado, here's the scoop on the deal:
Starting on July 1, you can pop in to any brick and mortar Make Up For Ever store and knock 15 percent off of purchases of $75 or higher (let's be honest, it's not going to be hard to hit that mark!). If you really want to go all out and/or buy every possible shade of eyeshadow ever, you can snag a full 20 percent off of purchases of $100 or more!
If you, like me, are more of a shop-from-the-comfort-of-your-couch kinda gal, rest assured that the sale launches online starting Monday, July 2 on makeupforever.com. (All of the same percentage rules apply!) Best of all, this sale doesn't have any pesky exclusions, so you can feel free to pick up whatever you want at a discounted price — ranging from brand's latest launches to its cult classics.
Speaking of which, I have my eye on a few oldies and newbies.
1. Make Up For Ever Ultra HD Foundation (regularly $43, on sale for $36.50/ $34.40)
I have a special place in my heart for this formula. Long before I worked in the beauty industry, I knew very little about foundation and the skin-smoothing benefits of wearing it... until one day, my 18-year-old self was perusing the shelves of Sephora and an employee recommended this stuff. To this day, it's still one of my favorite formulas, thanks to its skin-blurring finish that's just full-coverage enough to conceal any redness without ever looking cakey.
2. Make Up For Ever Artist Color Refillable Makeup Palette
I didn't realize that Make Up For Ever offered an option to create your own bespoke, totally customizable eyeshadow palette! I think I'm entirely too indecisive to ever pick my favorite shades out of the zillions they offer, but it's an excellent idea nonetheless.
3. Aqua XL Ink Liner Extra Long Lasting Waterproof Liquid Liner (regularly $24 each, on sale for $20.40/$19.20)
These babies feature a super-fine tip for all those detailed eyeliner looks you've been meaning to create. (Now's your chance!) Plus, you can wear them to the beach without worrying about smudging, thanks to the waterproof formula.
4. Make Up For Ever Artist Color Pencil (regularly $18 each, on sale for $15.30/$14.40)
These pencils can be used as eyeliners, yes, but did you know that they can also be used on the brows and lips!? (Talk about monochromatic makeup inspo.)
The Make Up For Ever sale ends on Thursday, July 7. And thank goodness this sale lasts for more than a hot sec; after all, I might need a few days just to whittle down the items I want to add to cart!