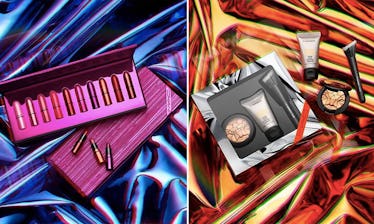 MAC's Holiday Collection Came A Month Early & I Almost Forgot About Halloween
MAC Cosmetics
There are those seasonal moments people look forward to annually. Some might count down to that one fall day when Starbucks brings back their seasonal pumpkin spice menu. I, on the other hand, count down to the release of MAC's annual holiday collection launch. I can always depend on the iconic makeup brand to bring the glitz and glamour just in time for the holidays every year. However, this year, the MAC holiday 2018 collection is coming early (a whole month early — even before Halloween) and it's good — really good!
Just like I expected, the collection is packed with tons of sparkly and shine, metallic accents and pretty limited-edition packaging of their cult-favorite items. However, I wasn't ready for so many giftable collections packed with MAC's best essentials, all ready to have a bow placed on top of them and given to the beauty junkie in your life (even if that means gifting yourself). Ahead, a peek at the MAC holiday line, which is perfectly named the Shiny Pretty Things collection.
The Mini Fix+ Trio
If you're a fan of the cult-favorite Prep + Prime Fix+ spray, make sure to add this adorably packaged trio to your wish list this holiday season. In the metallic silver bag, you'll find three mini sprays in the colors pink (rose scented), yellow (coconut scented), and purple (lavender scented).
The OG Fan-Favorites
If the Prep + Prime Fix+ Spray is your ride or die, but you'd still rather spread the love, opt for a range of MAC's fan-favorites. This kit includes the priming/setting spray, a pinkish-nude lipstick, and a mini In-Extreme Dimension Lash Mascara.
The Glow-Getter Kit In Gold
Speaking of OGs, the Glow-Getter Kit includes the cult-favorite strobe cream that gives your skin a lit-from-within glow, a gold pressed highlighter, and a stipple brush that gives you an airbrushed look. And the best part is all of this is packaged in a pretty giftable box that will cost you just $40.
Metallic Mini Brush Sets
MAC has always been known for their fire brushes, but the metallic finishes of these handles (not to mention the matching carrying clutches) makes these two mini brush sets a must-have. In the gold bag, you'll find a mix of face brushes and in the blue bag, you'll find a five-piece collection of eye-shadow brushes.
10-Piece Lipstick Vault
If an iconic MAC lipstick is your jam, this 10-piece collection packaged in a metallic hot-pink collectors box is exactly what you've been waiting for. With a collection of shades, there's no shortage of the looks you can create. Plus, it'll look like a million bucks on your vanity all year round (but luckily for your secret santa, it'll only run them $75 for the entire set).
In case you're already making your list and checking it twice (I mean, who isn't?), the Shiny Pretty Things line will be available on Oct. 18 in MAC stores across the country and online at the brand's website.