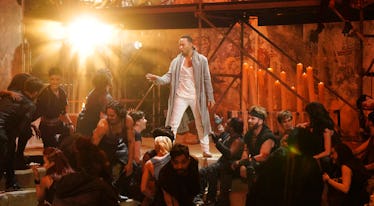 There Was A Lyric Change 'Jesus Christ Superstar Live' & Fans Are So, So Confused
Paul Lee/NBC
NBC gave Jesus Christ Superstar a modern makeover with Jesus Christ Superstar Live in Concert on Easter Sunday night, and although the live special was definitely a fresh interpretation, it still remained almost entirely true to Andrew Lloyd Weber's original rock opera. Almost entirely true — fans did pick up on one pretty notable lyric change in Jesus Christ Superstar Live that threw hardcore fans of the original for a loop.
UPDATE: NBC's Jesus Christ Superstar Live was actually not the first production of the rock opera to include this lyric change. The change was reportedly first made in the 1996 revival of Jesus Christ Superstar on the West End.
EARLIER: As anyone who has seen or hears the original 1970 rock opera Jesus Christ Superstar is well aware: it is a very weird musical. I mean, when it comes to turning the story of Jesus' crucifixion into a '70s rock opera, you kind of have to know that it is going to be pretty weird, right? But that weirdness is part of the big reason that the strange, passionate musical became such a hit and garnered generations of fans. One part of that weirdness was the inclusion of some fun, informal colloquialisms that nobody would expect to come from biblical icons... but NBC's live staging on Sunday night removed one of the most well-known instances of this.
In the song "This Jesus Must Die," performed by Caiaphas and the Sanhedrin, a fan-favorite line from the song was totally changed. The song, which appears towards the beginning of the series and introduces the show's villains of Caiaphas, Annas, and the other Priests, is the action statement of the Priests to take down Jesus after realizing the mob mentality he has been stirring up.
Though "This Jesus Must Die" is mostly a dark and villainous song, it also includes one of the lightest and silliest lines of the whole musical. In the middle of listing all of the troubles that Jesus is at the center of around town, Caiaphas unexpectedly breaks from his bad-guy role and admits that Jesus is actually a pretty cool dude. The line he sings always stands out to Jesus Christ Superstar fans as one of the most fun moments of the show, when Caiaphas sings:
One thing I'll say for him: Jesus is cool.
But apparently, NBC found that silly line distracting, or had some other reason for cutting it from the live special on Easter Sunday night. Instead of giving Caiaphas his standout, funny line, the live show replaced it with another addition to the Priests dissing Jesus' followers, having him spit out:
Infantile servants, the multitude grows.
Of course, fans of the original Jesus Christ Superstar musical were quick to point out the notable lyric change:
Although the big Caiaphas line wound up getting cut from Jesus Christ Superstar Live in Concert for some reason (I still don't really have any idea why), pretty much all of the rest of the show remained true to Andrew Lloyd Weber's original songs and lyrics. And even without his standout line, Caiaphas still managed to be one of the most eye-catching characters in NBC's live staging, but it was more for his fashion sense than any silly lines about how cool Jesus is.
Broadway veteran Norm Lewis portrayed the leader of the Priests, Caiaphas, in NBC's Jesus Christ Superstar Live in Concert, and totally stole the show when he strode out on stage decked out in a space-age, geometric, black coat and long white dreadlocks. The cutting-edge style of the show's villains sparked a huge reaction on social media.
Clearly, Caiaphas didn't even need his "Jesus is cool" line to really stand out — just throw a crazy, futuristic jacket on Norm Lewis and let him go! And hey: hardcore fans can still go back and listen to the original "This Jesus Must Die" recording to get that line.