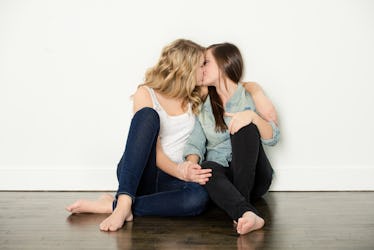 These 3 Signs Will Have The Best Luck In Love This Month, So Get Excited
It's hard to measure up to the romance of Valentine's Day, which is why I like to think that February is the most romantic month of the year. That doesn't mean that your love horoscope for March 2018 won't be promising, though.
Honestly, with the pressure of an entire month dedicated to finding and celebrating love behind you, I bet March will come as a breath of fresh air. Not everyone spent Valentine's Day with their new bae. Some of us got wine-drunk and saw Fifty Shades Freed with our best friends. OK, I did that and I have no regrets, especially knowing that Scorpios (that's me!) have a lot of romantic luck coming to them this month.
In fact, the three luckiest signs in love in March will be water signs Cancer, Pisces, and Scorpio. Linda Furiate, a professional astrologer who specializes in relationships, says that March starts off with four planets — including Venus, the planet of love — in Pisces, causing the strongest romantic impulses for Pisces and a ripple effect for the other water signs.
She explains that while most of us will feel a greater desire to show compassion and tenderness, the three water signs can "expect to feel more intuitive, which may naturally draw them toward activities and other people that could create an opportunity to meet new love interests."
If you're a water sign, here's what you have to look forward to in March.
Cancer
This month will find you pursuing travel and intellectual opportunities, which is why Furiate says, "Cancer may meet a new love interest while away on a trip or attract a new partner from a faraway country." Perhaps, you'll be studying abroad or attending a book signing by your favorite author in another city. Furiate says that you can expect to attract others with your unusually charming banter. Don't limit yourself to the same social circles you've been a part of for years. Step out of your comfort zone and keep an open mind.
Pisces
March is the perfect time for you to take a step back and focus on inward reflection. Furiate says, "This may be a month where Pisces could feel drawn toward their past. A person they are most likely to meet could appear in a dream or may be walking near the water's edge on the beach or nearby lake. Pisces may feel a strong receptive pull to connect with a partner who may allow for their romantic fantasies to become a tangible reality." Pay attention to where your mind goes when it wanders off and appreciate the people who support your most intimate desires. Your next partner might be right in front of you, literally and figuratively.
Scorpio
Jupiter, the largest and most luck-oriented planet, will travel through Scorpio this month, bringing with it lots of romantic and spiritual potential. "Scorpio may have an opportunity to meet someone new at a meditation retreat, at a local yoga studio, or through a former lover or friend," Furiate advises.
Speaking of former lovers, Mercury goes into retrograde on March 22, which means most can expect a blast from the past. Furiate says, "You can hear from someone you haven't talked to in years, or run into a friend from high school, or an old boyfriend might hit you up." Instead of being hesitant to make the same mistakes again, embrace this opportunity to make things right.
Although this month will be all about love connections for the three water signs, Furiate notes that they will also feel compelled to reflect on personal experiences and life changes. Soon, what you truly hope to get out of life will reveal itself to you. Remember to prioritize your relationship with yourself, even if you're looking for love. Getting to know yourself on a deeper level ensures that you are open and ready to share your life with someone else when the time comes.
For this reason, you can expect romantic relationships you enter into this March to be more meaningful than relationships you've had in the past. And if you believe in soulmates, Furiate says yours just might be on the way. Aren't you ready to kiss February goodbye now?
Check out the entire Gen Why series and other videos on Facebook and the Bustle app across Apple TV, Roku, and Amazon Fire TV.
Check out the "Best of Elite Daily" stream in the Bustle App for more stories just like this!