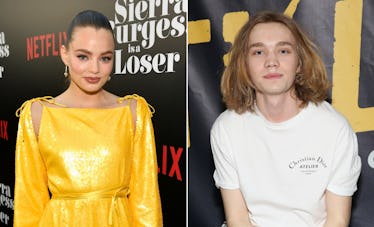 Hulu's 'Looking For Alaska' Finally Has A Cast, So You Can Officially Start Freaking Out
Matt Winkelmeyer/Getty Images, Robin Marchant/Getty Images
John Green's beloved, first young adult novel Looking for Alaska is finally going to come to life in a new Hulu adaptation, and Green just revealed who will be playing the lead roles of Alaska Young and Miles "Pudge" Halter in the upcoming limited series. Of course, this is major news for fans of the novel, so the Looking for Alaska cast announcement has everyone freaking out right now.
Earlier this year, Hulu announced that it had greenlit an eight-episode limited series adaptation of Looking for Alaska from co-showrunners Josh Schwartz and Stephanie Savage, a duo that has helmed several hit young adult series in the past, including The O.C., Gossip Girl, and currently Hulu's Runaways. The novel's author John Green revealed that he had actually sold the rights to adapt Looking for Alaska 13 years ago, when the book was first published in 2005, but nothing had come of that until now. In the intermittent time, Green has adapted two of his hit YA novels into major movies: The Fault in Our Stars and Paper Towns.
But John Green's first novel is still is most beloved for many fans. Looking for Alaska revolves around a teenage boy named Miles Halter who is obsessed with memorizing the last words of famous people. Miles moves from his home in Florida to attend a posh boarding school in Alabama called Culver Creek. There, he meets a confident and unpredictable girl named Alaska Young, whom he falls for after joining her clique of outcasts.
Fans of the novel have been excited to see who would play the lead roles of Alaska and Miles ever since the Hulu adaptation was announced, and on Tuesday morning, John Green finally revealed the two actors: Kristine Froseth and Charlie Plummer.
Rom-com fans are probably already familiar with Kristine Froseth, who will be taking on the role of the charming and wild Alaska Young in Looking for Alaska. Froseth is best known for playing the mean girl-turned-friend Veronica in Netflix's Sierra Burgess Is a Loser. Froseth shared how excited she was to star in a story that she has loved for years in an Instagram post:
I can't put into words how I am feeling right now. #LookingForAlaska is an important story that has been so close to my heart since I first read this beautiful book when I was 13. I am beyond honored to be bringing Alaska to life with the amazing @charlieplummer @stephaniesavage @joshschwartz in the @hulu adaptation of the @johngreen novel. I really believe that with this team, we're going to do LFA justice. Can't wait to share it with you guys!!!
Charlie Plummer is on board to play Looking for Alaska's protagonist and narrator Miles Halter, who earns the ironic nicknamed Pudge after he enrolls at Culver Creek. Plummer starred in the crime thriller All the Money in the World last year, and helmed the three-season Netflix-acquired series Granite Flats. Like Froseth, Plummer also shared on Instagram that he had been a huge Looking for Alaska fan for years before getting cast in the adaptation:
Dreams coming true today:) I've loved this novel and these characters for years and I'm beyond excited and honored to be a small part of the team that'll bring them to life. @johngreenwritesbooks @hulu @joshschwartz76 I'm forever appreciative — here we go <3 #lookingforalaska
So far, Kristine Froseth and Charlie Plummer are the only actors attached to the series, but hopefully we will soon learn who will be playing the other major characters from the novel, such as Miles' roommate The Colonel and the other member of their outcast crew, Takumi. Hulu also has not yet announced a premiere date for its Looking for Alaska limited series.