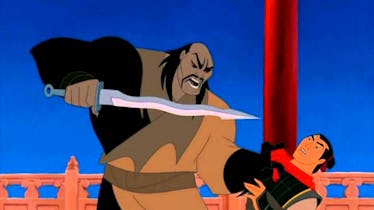 The Live-Action 'Mulan' Cast A New Villain & I've Never Been So Ready To Defeat The Huns
Walt Disney Pictures
The upcoming live-action Mulan has already distinguished itself from the classic animated version, making it clear that the characters we knew and loved in Disney's original story don't have exact replicas in the 2020 remake. Apart from the main character being named Mulan, there doesn't seem to be any familiar figures in the live-action film, and the headcount of new characters has just increased again. The live-action Mulan cast a new villain, and I'm totally ready to defeat the Huns after hearing about the man behind one of Mulan's threats.
Actor Jason Scott Lee has been tapped to play villain Bori Khan in 2020's Mulan. The Hollywood Reporter describes the character as "a warrior leader who is intent on avenging his father's death." If Lee looks a little familiar, it's because he has his own past with Disney features. He played Mowgli in a 1994 live-action production of The Jungle Book and even voiced Nani's love interest David in Lilo & Stitch. Lee might have been the hero in those other projects, but it looks like portraying Bori Khan will involve Lee playing against type. We don't know if Bori Khan is partnering with the movie's other villain, a witch played by Chinese actress Gong Li, but I'm curious if their evil looks will rival how terrifying Shan Yu was to a younger me. His eyes were yellow, guys.
Director Niki Caro has clarified that the remake is not intended to be a musical, so we probably won't hear a new chilling ballad about a villain's daily life, but the quality of the cast looks as if it'll make up for that. Popular Chinese actress Liu Yifei stars as Mulan, with a resume that includes martial arts films and major roles in English-speaking movies such as 2014's The Forbidden Kingdom alongside Jackie Chan and Jet Li, who also joins the live-action film as the Emperor of China. While Mulan's love interest isn't a dreamy army commander whipping off his shirt for a musical number, Yoson An will play her new flame Chen Honghui, "a confident and ambitious recruit who joins Commander Tung's unit." Instead of a sassy dragon accompanying Mulan, Donnie Yen will play her commander and mentor.
Although the movie was originally scheduled to hit theaters on Nov. 2, 2018, Disney announced in March that Mulan will now premiere on March 27, 2020. Seeing as the film's launch is less than two years away, we still have to wait a bit longer for any behind-the-scenes pictures or teaser trailers, but there are hopes of another big casting announcement to come. Fans of the original Disney movie have campaigned for the speaking voice of Mulan, Ming-Na Wen, to appear in the new version, and Agents of S.H.I.E.L.D. star Wen told ET in a 2017 interview:
I'm really hoping that for the fans, as well as for me, I would love to have a part in it in some way. We'll see, knock on wood. We're having conversations and I know the fans really want it and love it... I'm very excited that they want to do a live action, because they've done so amazingly with all the movies... that I'm really looking forward to the live-action Mulan.
Hmm, does Mulan still need someone to play her mother in the upcoming version?
It's still too soon to predict what direction this movie will take, but so far, Mulan seems to promise quite the epic story. I'll definitely be ready to "get down to business" in March 2020 when this is in theaters.