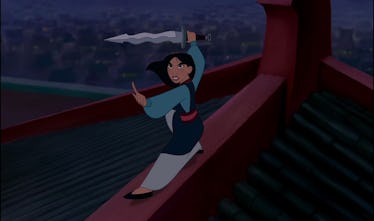 The Live-Action 'Mulan' Has Been Pushed Back & We Won't "Get Down To Business" For A While
Walt Disney Pictures
Say what you like about Disney's new tendency to remake its most beloved animated features as live-action films, but I think that the company has actually had an excellent track record of producing enjoyable remakes of such classic stories. Cinderella and Beauty and the Beast were smoothly adapted for modern audiences, and the studio's plans to release a live-action Mulan film later this year were hugely anticipated. Now, it looks like we'll have to wait much longer for the new story to hit theaters.
Although it was originally scheduled for a release on Nov. 2, 2018, Disney has now pushed back the film's premiere to March 27, 2020. Just when I thought we could celebrate only eight months until Mulan meets a new generation, we may as well just disappointingly mark this new date in our calendars. Two years is a long wait, guys.
The rescheduling is the result of Disney's major revamp of its calendar of upcoming films. Earlier this week, the production company announced plans to release the blockbuster movie Avengers: Infinity War on April 27, 2018, rather than its original launch date a week later on May 4. According to Entertainment Weekly, Disney also announced release dates for more than 20 untitled films all the way through 2023. The company has yet to clarify why Mulan was rescheduled to the extent it was.
Back in November 2017, Chinese singer-actress Liu Yifei, or Crystal Liu, snagged the role of Mulan in the new film. While she hadn't appeared in well-known films before being cast as Mulan, the 30-year-old was praised for her very fitting attributes that the role will likely require. Liu has appeared in several martial arts film, and she also speaks fluent English. She lived in America for several years as a child before returning to China to study at the Beijing Film Academy.
Liu will work under the guidance of director Niki Caro, who most recently worked on the 2017 film The Zookeeper's Wife. Caro has stressed that the remake is based on both the Disney film and the traditional Chinese story of Mulan, which means that the remake won't necessarily include the music from the Disney production. She also spoke to The Hollywood Reporter about the importance of telling women's stories and employing the help of those most familiar with Chinese culture:
I respond to the best stories. It so happens that the best stories right now are female, and I think that's really cool... In all my work that is centered in cultures not my own, I hope [working with experts] comes through, because that is incredibly important to me. When I made Whale Rider, I saw that to be specific and authentic is to be universal, and I've continued to work in an identical way ever since. As the projects get bigger, the more certain I am that cultural authenticity and specificity is the only way to approach my work.
Devoted fans of the animated film have also campaigned for the original speaking voice of Mulan, Ming-Na Wen, to have a role in the remake. Currently starring on the ABC series Agents of S.H.I.E.L.D., Wen addressed rumors of her involvement with the film in a 2017 Entertainment Tonight interview.
I'm really hoping that for the fans, as well as for me, I would love to have a part in it in some way. We'll see, knock on wood. We're having conversations and I know the fans really want it and love it... I'm very excited that they want to do a live action, because they've done so amazingly with all the movies... that I'm really looking forward to the live-action Mulan.
While the 2018 release of the live-action film would have been a perfect way to commemorate the animated Mulan's 20th anniversary, I can only take this delay as a sign that cast and crew will have even more time to make the remake phenomenal. Here's hoping!