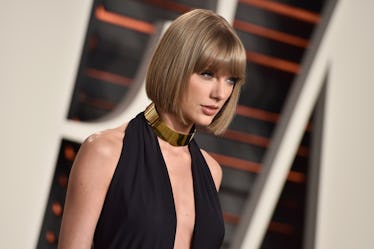 Taylor Swift Wrote The Lyrics For This Little Big Town Song & It's So Emotional
Pascal Le Segretain/Getty Images Entertainment/Getty Images
Lest you forget, Taylor Swift is the Queen of songwriting. Whether you hate to love her or love to hate her, you've got to give it to her – she's one talented writer. In fact, she wrote a new song for the country group Little Big Town, and it's — as per usual — an emotional journey. Little Big Town's "Better Man" lyrics by Taylor Swift are gut-wrenching, mature, seriously emotional, and make me wish I had a front porch.
You'll see what I mean.
We've all been so busy paying attention to Swift's latest album, Reputation, some of us didn't even notice she's also been low-key killing it for Little Big Town. In fact, "Better Man" is so good, it just won Song Of The Year at the 2017 Country Music Awards in November. Swift couldn't be at the ceremony, so Little Big Town shouted her out when they accepted the award. Karen Fairchild said, "Taylor, wherever you are, thank you for this beautiful song and for loving songs and loving Nashville."
Fairchild previously explained to Billboard magazine how she and her band came to work with Swift. She said,
She [Taylor] sent us this song, and it was one that was really special to her. She thought of us because of the harmonies. She's never pitched a song to anyone before, and the minute we heard it, we were like 'Man, that is a song that we're going to cut.'
Really, really. It's so good.
Have a listen.
EMOTIONAL, RIGHT?
Here are some of Swift's awesome lyrics:
VERSE 1: I know I'm probably better off on my own / Than loving a man who didn't know what he had when he had it / And I see the permanent damage you did to me / Never again, I just wish I could forget when it was magic. / I wish it wasn't 4 AM standing in the mirror / Saying to myself, you know you had to do it / I know the bravest thing I ever did was run
CHORUS: Sometimes in the middle of the night I can feel you again / But I just miss you and I just wish you were a better man / And I know why we had to say goodbye like the back of my hand / And I just miss you and I just wish you were a better man / A Better Man
VERSE 2: I know I'm probably better off all alone / Than needing a man who could change his mind at any given minute / And it's always on your terms, I'm hanging on every careless word / Hoping it might turn sweet again like it was in the beginning / But your jealousy, I can hear it now / You're talking down to me like I'll always be around / You push my love away like it's some kind of loaded gun / Boy, you never thought I'd run
BRIDGE: I hold onto this pride because these days it's all I have / And I gave you my best and we both know you can't say that / You can't say that / I wish you were a better man / I wonder what we would've become / If you were a better man / We might still be in love / If you were a better man / You would've been the one / If you were a better man
Every now and then, I like to picture myself having a different life somewhere in the south, sipping iced tea, owning a million dogs, and learning to play guitar.
Thanks, T-Swift and LBT, for making me feel like that life can be mine during the four minutes and 53 seconds of this song.
Check out the entire Gen Why series and other videos on Facebook and the Bustle app across Apple TV, Roku, and Amazon Fire TV.