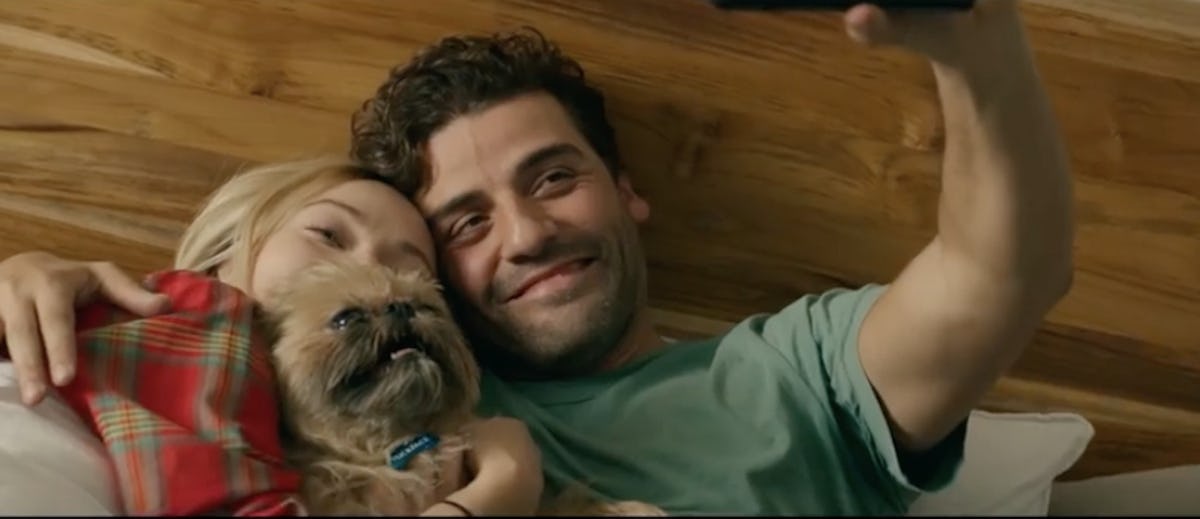 The Creator Of 'This Is Us' Has A New Movie & The Trailer Will Obviously Wreck You
Amazon Studios/YouTube
In need of a good cry this Wednesday morning? Leave it to the creator of This Is Us to make that happen. Dan Fogleman, the writer of the hit NBC drama and film faves like Crazy, Stupid, Love and Tangled, has a new movie on the horizon and it's already bringing out all sorts of emotions. The heart-wrenching Life Itself trailer was released on Tuesday, offering up a sneak peek at the moving multi-generational love story starring Olivia Wilde and Oscar Isaac, so prepare to weep at your desk while watching.
The Life Itself trailer focuses mainly on Olivia and Oscar's characters, showing glimpses of them throughout their loved-up life together — his proposal, her pregnancy, the moment before he went ahead and took the plunge in asking her out.
"I'm not going to date anybody else for the rest of my life. I'm not going to love anybody else for the rest of my life. I'm waiting for the right moment, because… when I ask you out, it's going to be the most important moment of my life. And I just want to make sure that I get it right," he tells her.
Be still, my beating heart! Now that's the way to get a date. This heartfelt declaration has This Is Us vibes written all over it.
The film also stars other acclaimed actors like Olivia Cooke, Antonio Banderas, Annette Bening, and Mandy Patankin, and the Amazon Studios synopsis reads: "The lives of people from New York to Spain intersect over the course of different generations."
"Witness the major motion picture event that will remind you we're all part of a greater story," the trailer reads.
Fogelman commented on the clip via Twitter yesterday, sharing his personal inspiration for the film. The writer shared:
Two years ago I sat down to write a film, only realizing after that I'd written it for my mom (who we lost ten years ago) and my wife (who I met exactly one year later). I hope you like the trailer. I think you'll like the movie. I am crazy about everyone involved.
Wilde additionally took to social media to express her love for the project.
" I loved making @lifeitselfmovie. Luckily I loved watching it even more. It's a heartbreaker, I warn you. It's also hilarious. Sort of like life... itself?" the actress wrote on Instagram.
Dan Fogelman has been busy getting back to work on another tearjerking entertainment phenonemon — This Is Us. The show just started up production on Season 3 and will debut new episodes in September Fogelman's TIU cast had nothing but lovely things to say about their co-worker's cinematic creation, taking to Twitter to gush about Life Itself. What a supportive group!
"Everything @Dan_Fogelman touches is brilliant—life-affirming, heart breaking and everything in between. This movie is no exception and I can't wait to see it again. #lifeitself," Mandy Moore tweeted.
Sterling K. Brown and Milo Ventimiglia had their own rave reviews to share as well.
Um, and even Barbra Streisand herself, who starred in Fogelman's 2012 comedy Guilt Trip, got in on the compliment action. Way to get the Babs seal of approval!
With this movie coming out and This Is Us returning this fall, I would start prepping yourself emotionally and making sure there are tissues at the ready. Mandy Moore has already teased that the first episode of the third season is "NOT for the faint of heart." Oh, dear.
Life Itself hits theaters September 21. This Is Us Season 3 premieres Tuesday, September 25. What. A. Week.