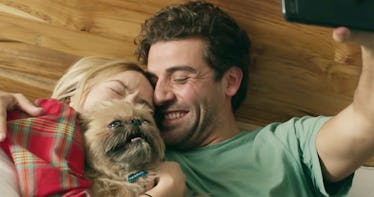 'This Is Us' Fans Are Going To Be Disappointed By The 'Life Itself' Ratings
Amazon Studios
This Is Us returns to NBC next week for its third season. This was supposed to be something of a one-two punch month for series creator Dan Fogelson, who is not only bringing back one of the most successful shows on broadcast this decade but also has his second major motion picture arrive in theaters this coming weekend. Titled Life Itself, the film was heavily promoted during the This Is Us finale last year, and is clearly meant to bring in the same fan base of catharsis cry lovers. But the Life Itself ratings suggest something dreadful happened on the way to big screen success.
Life Itself was actually first screened at the Toronto International Film Festival (known as TIFF) a week or so ago, and the reviewers attending the event were less than impressed in their reviews. But considering the atmosphere, this could have been something of an aberration. After all, many of the critics in attendance aren't the types to also review TV shows, and more than one review admitted outright they'd never seen This Is Us.
But then, the rest of the film critic world got a hold of it, and things went from bad to worse. The current rating on Rotten Tomatoes stands at an ungodly 13 percent splat.
Dan Fogelman didn't react well to the reviews and blamed the system for his film being ill-received. Speaking to TooFab, he said:
There's a disconnect between something that is happening between our primarily white male critics who don't like anything that has any emotion... The major television critics still have not accepted our very successful television show. They're a little bit mocking towards it, the show that has honestly had a great impact and effect on people.
This is a surprising statement, especially about This Is Us, as not only has it been welcomed with open arms by TV critics but viewers as well. Not to mention, the show has been nominated (and won) Emmys, Golden Globes, and Screen Actors Guild awards. But perhaps Fogelman is forgetting this in the face of reviews like this one, from Entertainment Weekly, a publication which regularly champions This Is Us:
What the viewer is left with... is the curious sensation of having just watched a 90-minute prologue to something that they're no longer interested in.
As for how the film is expected to do at the box office this weekend, Box Office Pro's weekend forecast says the real hit of the weekend is expected to be Jack Black's The House With A Clock In Its Walls.
Life Itself, on the other hand, is expected to have modest returns.
Michael Moore's Fahrenheit 11/9 is hoping to benefit from the upcoming election midterms... while Amazon Studios makes a strategic leap forward with their first wide release, Life Itself — although tracking models are decidedly modest at this point. Each of those films are looking to open in the low-to-mid single digit millions this weekend, with Moore's documentary having slightly higher upside despite a lower theater count (1,719 versus 2,500).
Life Itself opens in theaters Friday, Sept. 21, 2018. This Is Us returns to NBC on Tuesday, Sept. 25 at 9 p.m. ET.